Abnormally Attracted To Sin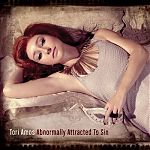 Release Dates
May 15, 2009 (The Netherlands/Germany/Australia/Ireland)
May 18, 2009 (United Kingdom/France)
May 19, 2009 (North America)
Tracks
1. 'Give'
2. 'Welcome to England'
3. 'Strong Black Vine'
4. 'Flavor'
5. 'Not Dying Today'
6. 'Maybe California'
7. 'Curtain Call'
8. 'Fire to Your Plain'
9. 'Police Me'
10. 'That Guy'
11. 'Abnormally Attracted to Sin'
12. '500 Miles'
13. 'Mary Jane'
14. 'Starling'
15. 'Fast Horse'
16. 'Ophelia'
17. 'Lady in Blue'
Special Editions
A deluxe edition of the album will also contain a DVD with short films plus a special booklet. Photos and scans of the deluxe edition are thanks to Inge at The Velvets.
Photos
Visualettes
No promos yet.
Press Kit
In July of 2008, during a visit to the West Coast to appear at Comic-Con in San Diego, Tori Amos stopped by Los Angeles for a business lunch. During the meeting a woman passed Tori's table, talking animatedly on the phone. When somebody told her Doug Morris was on the other end of the line, Amos interrupted the woman on the phone and said, "Please send Doug my love." A few seconds later, Amos was talking to MorrisÑher mentor at Atlantic Records during the early ninetiesÑfor the first time in fourteen years. A few hours later, Amos began writing a new batch of songs. A few weeks later, Amos had entered into a new partnership deal with Morris and Universal. On May 19, 2009, "Abnormally Attracted To Sin," the tenth Tori Amos studio album, will be released on Universal Republic.
Amos describes "Abnormally Attracted To Sin" as "really handmade. I wanted to make a treasure, something people will value." "AATS" is an elaborate feast made from homegrown stock, offered up to a generation fed on small meals made with cheap ingredients. Like all of Tori's albums since "Boys For Pele," "AATS" was recorded at Martian Studios in Cornwall, England by Tori's husband Mark Hawley and his partner Marcel van Limbeek. The center of the album is Amos's voice, and her Bšsendorfer piano, locking in with her touring and recording band of the past five years: guitarist Mac Aladdin, bassist Jon Evans and her longtime drummer and rhythmic foil, Matt Chamberlain.
"AATS" is Amos at her most passionate and most comfortable. In the best way possible, "AATS" could have come out at any point between her 1992 solo debut, "Little Earthquakes," and 2009. The object itself, though, is a state-of-the-art Christmas present. The packaging shows Amos in a variety of guises, photographed in various rooms of a plush, cream-colored Victorian hotel room by glamour expert Karen Collins. The sound of the album is typically detailed and wide, dominated by dark, rich reds and hints of silver. ("I want to make audio mescaline," Tori said.)
One of the most valuable parts of "AATS" is the bonus DVD, an element that is often a lame attempt to jack up the sticker price in other instances. Not this time. The DVD contains sixteen "visualettes" directed by Christian Lamb, who filmed Amos and her band during the "American Doll Posse" tour.
"Christian jumped on the bus and made daily montages of the band's life on the road, using music from the live shows as a soundtrack to the footage," Tori said. "When I saw what he had done, the new songs started to come to me." The visualettes are not videos in the traditional senseÑthere is no lip-syncing. Amos thinks of them as "silent movies," citing early movie star Mary Pickford as a reference point. Some of Tori's characters from "American Doll Posse" appear in footage Lamb shot over the past year and a half. Some visualettes are interspersed with live footage from the tour, while others were filmed to work with the songs that would come to her later. Rather than literal visual representations of lyrics, Lamb's images are complicated and integral to the logic of "AATS."
"AATS" is made up songs I wrote on the road watching Christian's footage, and the songs I wrote after spending some time in California, which is where I had lived before Little Earthquakes was released," Amos explained.
The album title is a line from 'Guys and Dolls,' originally spoken by the character Sarah Brown. The phrase came to Tori before she recorded with the band, but after she had written the songs. Sin, in this case, is not necessarily what you're thinking of.
"I wanted to really investigate how we're controlled by the threat of despair," Amos said. "I wanted to look at powerÑhow we think and how you can reclaim the right to think for yourself, to uncover what you believe in as a spiritual, sexual creature. You don't need the approval of your family, or of their religion. You can think, 'Wait a minute, I'm a spiritual being. Just because I like gold handcuffs doesn't mean I'm not a spiritual being. These definitions are not for my mother to make about me.' What I am exploring with this record is power, and giving it away with your thinking. How do we become controlled?"
"I'm a minister's daughter. The power of the church is insidious, and it permeates everything," Amos explained. "A lot of what the Church discusses is not about the compassionate path of Christ, it's about what kind of lifestyle is acceptable and approved of by the Church when god knows what they're doing behind closed doors. You have a lot of people waking up every morning who feel paralyzed to act because of these judgments. All around us people are not only experiencing physical bondage but emotional and mental bondage behind perfectly groomed lawns. Inside acceptable addresses the definition of bondage is perversely explored with those we know only too well. Moving from the personal to the political, "Strong Black Vine" investigates the effect of religious intolerance, another form of bondage."
The mood for much of "AATS" is dark but charged, like a late night conversation (or confession) held over several bottles of wine. "Lady In Blue" builds steadily, confidently, deliberately, as Tori sings about a woman who wronged a man, who needs a light, who wants to play with the boys. While unpacking the story of those without power, she reintroduces women who have all the power they want. Tori, however, generally focuses her songs on those who feel like they have no power, or aren't entitled to any.
"There are so many young women who come to shows with scarring," Tori said. "This trend has seemed to gain momentum over the last few years. I wanted to crawl inside self-destruction and rewire it in songs like 'Ophelia.'"
"Ophelia" is a waltz in the classic Amos mold, her voice in its softer range, a gentle conjuring folded in between all the fire and shadow. Amos here sounds here less like a character and more like herself, speaking to another generation: "Ophelia you must break the chain. Some girls will get their way, some fathers will control from the grave." "Maybe California" is a different form of empathy. For this song, Amos recreates the story of a woman in California who thinks "nothing is making sense anymore" and wants to jump off a cliff. (It seems inappropriate to spoil the ending.) In both songs, characters are struggling to find a reason to move forward.
"'Ophelia' is about choosing to be with someone who doesn't respect you and doesn't value you. That leads us right back to what sin really is. What is sinful? It's not what the church says to me is sinful. It's me degrading myself, or somebody else wanting to degrade me and me allowing it to happen. We, as women, could choose to walk away from so much of what's going on, but it seems as if we're not making that choice, and I'm asking myself all the time 'Why? What have we, the older generation of women, not done?' Who would have thought that we could regress to this point?"
"AATS" doesn't take the regression lightly, and fights back as hard as Amos has ever fought. The title track moves over an impressively thick synthesizer line Amos wrote and played, feeling a bit like club music that's wandered out into a dark side street to think for a moment.
"People are being forced to question what they believe in," Amos said. "We're being brought back to questions which make up our foundation: 'Who am I? What do I really believe in?'"
"AATS" is the work of someone who knows, with a fierce certainty, what she believes in. Anybody, whether it's a newcomer or a lifelong member of Tori's phenomenal fanbase, will feel that certainty.
"Passion is a seducer, and this music is passionate. Even though somebody might be drinking beer, if they see the color of that red wine, it looks like blood, it looks so deliciousÑthey might just have to taste it. I'm good old red wine. By letting myself age I think I'm better for drinking beginning in 2009."
Chart History
Abnormally Attracted to Sin
"Welcome to England"
Billboard Triple A Single Chart – #13
Ad
No ads yet.
Quotes
No quotes yet.
Toriphile Reviews
No reviews yet.
News