American Doll Posse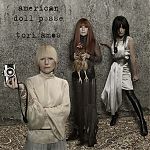 Release Dates
April 26, 2007 (Poland)
April 27, 2007 (Germany, The Netherlands)
April 28, 2007 (Italy, Australia)
April 30, 2007 (United Kingdom, the rest of Europe)
May 1, 2007 (North America)
May 2, 2007 (Finland)
May 8, 2007 (Canada maybe)
Tracks
Yo George (1:27) (Isabel)
Big Wheel (3:18) (Tori)
Bouncing Off Clouds (4:08) (Clyde)
Teenage Hustling (3:59) (Pip)
Digital Ghost (3:51) (Tori)
You Can Bring Your Dog (4:03) (Santa)
Mr. Bad Man (3:19) (Isabel)
Fat Slut (0:40) (Pip)
Girl Disappearing (4:00) (Clyde)
Secret Spell (4:03) (Santa)
Devils and Gods (0:52) (Isabel)
Body and Soul (3:56) (Pip & Santa)
Father's Son (4:00) (Tori)
Programmable Soda (1:25) (Santa)
Code Red (5:26) (Tori)
Roosterspur Bridge (4:00) (Clyde)
Beauty of Speed (4:08) (Clyde)
Almost Rosey (5:22) (Isabel)
Velvet Revolution (1:19) (Pip)
Dark Side of the Sun (4:18) (Isabel)
Posse Bonus (1:50) (Tori)
Smokey Joe (4:16) (Pip)
Dragon (5:05) (Santa)
Special Editions
Limited Edition
The Limited Edition of American Doll Posse comes packages in a 4-panel digipack and includes one of three different 5 postcard sets, a full-color 36 page booklet and a bonus DVD which contains the exclusive bonus track "My Posse Can Do" (Santa), a documentary about the making of the album, photo montages and other behind the scenes footage.
iTunes Editions
iTunes (US) is selling both editions of the album, but they both include a couple extras. First, pre-ordering either edition from iTunes would immediately net you the song "Big Wheel" and, on the May 1st release date, an exclusive bonus track "Miracle". In addition, iTunes pre-ordered will also receive an unique pre-sale password to purchase tickets to Tori's American dates on the tour. Finally, the the deluxe eiditon of the album also includes two video downloads (presumably the same video material that is on the bonus DVD of the physical limited eiditon).
Borders
Borders has a download-only bonus track called "Drive All Night" with the purchase of the standard edition.
Vinyl Edition
European "Bouncing Off Clouds"/"Big Wheel" single:
"Big Wheel" promo single:
Photos
The Posse
American Doll Posse features Tori Amos in a way we've never heard her: as five distinct characters who combine to make a complete woman. After centuries of being dismembered, literally and figuratively, by the ruling patriarchy the feminine essence has reassembled to take back the power. In addition to Amos, the quartet creates a compelling portrait of the role of women today expressed through one of Amos's most wide ranging albums, both thematically and musically.
Even Amos was a little undone when the girls started showing up all at once. As usual, the songs began pouring from her now famous Bösendorfer piano which, like a compact you use for all occasions, goes everywhere she does. But this time, something was different: "When the songs come through, I can almost hear them complete," she says. 'Normally, they work within a frame. What I began to notice with this, which really got me spinning, was that there were extremes."
Those extremes were different voices, different archetypes, all of which were ready to emerge distinct and intact. Each character came with her own look and fashion sensibility, and each had something very important to say about her role in a patriarchal world and the shackles that had been placed upon her by not allowing her to show all facets of her true self.
"Being a preacher's daughter, I understood the politic of religion and so I really began to see how now that we're in a very right-wing Christian time," Amos says. "Women are divided into the mother and the whore. It's very black and white. As a piano player, I understand black and white very well. And it's just not acceptable outside of a keyboard."
So Amos looked to a time when the feminine, in all its different facets, was considered divine. "I went back to the Greek pantheon. And I started listening to the music back on demos and I started to be able to see which character traits were associating themselves, merging with the songs."
Isabel (HisTORIcal), a photographer, is a reflection of Artemis and is the most outwardly political of the bunch. She opens the album with "Yo George," a shout-out to our commander in chief, questioning what horribly dark road he and his crooked cronies have led us down, and closes the CD with the anti-war anthem, "Dark Side of the Sun."
Then there's Clyde (CliTORIdes), who draws from Persephone. She wears her emotional wounds on her sleeve, but remains idealistic. "She is looking at the effects of not being a whole person. She is trying to figure out what she believes in and she is dealing with having been disappointed in her life," Amos says. Clyde is a little girl lost on the string-laden, gorgeous "Girl Disappearing" and on the heartfelt ballad "Roosterspur Bridge."
Pip (ExpiraTORIal), who represents Athena, swaggers her way through the driving "Teenage Hustling" and duets with Santa on the rollicking "Body and Soul." "Pip, being the warrior that she is, does confront issues and sometimes it's explosive, but I really love her energy and her casual approach to rubber," Amos says.
Santa (SanaTORIum) relates to Aphrodite and is the sensualist of the quintet. Through songs like the shimmery pop of "Secret Spell" or the wonderfully wicked "You Can Bring Your Dog" or the delightfully retro "Programmable Soda," "Santa is somebody who's a girl's girl," Amos says. "She understands her fellow sisters and she believes that there is enough love and passion out there for everyone. But she won't accept that there is something perverted about being very sensual and she won't drink shame with her sensuality."
And, of course, there's Tori (TerraTORIes), who, surprisingly, was one of the hardest characters for Amos to get her head around. "She was Demeter and Dionysus, so she was really holding and channeling the male, as well as Demeter, who was the mother, the creator of this," Amos says. She is front and center as the M-I-L-F on "Big Wheel" and on the dreamy, Lennon-esque married with the Mick Ronson guitar inspired "Digital Ghost."
"What I 'm trying to tell other women is they have their own version of the compartmentalized feminine which may have been repressed this in each one of them," Amos says. "It will look different. But because it's based on an ancient feminine personality traits, it exists in all of us and we've really been forced to make a choice, an either/or of only one facet of the feminine."
Even for Amos, who recorded the album in her own Martian Engineering Studios in Cornwall, England there was something to be learned from these women about being one's authentic self. "For many years I have been an image; that isn't necessarily who I am completely," she says "I have made certain choices and that doesn't mean that those choices are the whole story. I think these women are showing me that I have not explored honest extensions of the self who are now as real as the redhead."
In some ways, Amos's entire musical career has been leading up to this moment. On many of her past albums, she tackled a single theme. "I was exploring one personality at a time," she says. "So if you look at all the records, I was exploring these character traits, these feminine personality traits, usually in a sonic narrative form. And together, they make the complete woman."
Through the coming months, each woman will have her own blog and her personality will develop as it reveals itself. "You'll get to know the girls through the photographs, through the songs, and there needs to be writings, Amos says. "Their relationships get more complicated. I love the idea of this multimedia project being improvisational. Improv in front of a mass audience…this allows the five women to explore and develop as opposed to them being restrained and contained in a portraiture medium. This way they learn and they grow in front of everybody's eyes."
The different psyches will also make themselves known during Amos's tour, which starts in May and runs through December. Each night, Pip, Clyde, Isabel or Santa will open the show before ceding the stage to Tori. "They will have their own wardrobes, of course, they are their own women. So I don't know who will be going on that night until sound check of that day. I think it depends upon what's happening in the world." Because the girls are generous, Tori will do songs that represent her career, as well as sing some songs by the characters who aren't physically present that night. "Tori can do covers, she is known to do covers," Amos jokes, referencing her acclaimed 2001 album of covers, "Strange Little Girls." Fans will remember that Amos created a different photographic persona for each of those songs, in perhaps what now can be seen as a foreshadowing for "American Doll Posse."
Inside each one of us is a Pip, Clyde, Isabel, Santa, and, of course, a Tori. And Amos is inviting them all out to play and reclaim what is rightfully theirs. While Amos loves men-she's married to one after all-she's putting the oppressors on warning: "This [world] has been created by the patriarchal authority. And I'm coming after them." But they aren't the only ones who need to heed the clarion call. "The American women themselves, we've got to put a fire under them. They need to understand I'm at their door and I want them to know it. I'm coming after their daughters and I'm convinced that not all of them are solely obsessed with the circumference of their naval. Simply, if we as women don't ask the questions of 'those' who are imposing their controlling ideology on all of us, then we are agreeing to a self imposed muzzling and that is unforgivable."
So come with a set of open ears and minds, and bring your whole, true self with you. Tori, Pip, Isabel, Clyde and Santa have something you need to hear.
Ads
Quotes
Any time you get an opportunity to put something out, I'm in the mind that you seize the project with both hands. And I'm not one to give the record company my blessing and do what [they] think is best. I don't think that anybody knows what's best except the composer or the midwives of the songs themselves.
I had access to all the material since 1990, and my goal was to try and retain the integrity of everything. When you're putting together a work of this magnitude, [the songs] all have to work together. I wanted to have some kind of story—a payoff denouement for each record.
Toriphile Reviews
News