Midwinter Graces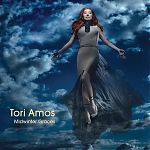 Release Dates
November 6, 2009 (Australia)
November 9, 2009 (France)
November 10, 2009 (North America)
November 16, 2009 (UK)
November 27, 2009 (Germany)
Tracks
What Child, Nowell
Star of Wonder
A Silent Night with You
Candle: Coventry Carol
Holly, Ivy, and Rose
Harps of Gold
Snow Angel
Jeanette, Isabella
Pink and Glitter
Emmanuel
Winter's Carol
Our New Year
Comfort And Joy [Deluxe Edition bonus track]
Stille Nacht, Heilige Nacht (Silent Night, Holy Night) [Deluxe Edition bonus track]
Good King Wenceslas [iTunes Deluxe Edition bonus track]
Special Editions
The Deluxe Edition of Midwinter Graces includes a bonus DVD containing a 30 minute interview with Tori about the making of the album and two bonus tracks: "Comfort and Joy" and "Stille Nacht, Heilige Nacht (Silent Night, Holy Night)." The deluxe edition is the only physical edition of the album available in North America. In other parts of the world, the physical release of the album is available in both regular and deluxe editions.
The US iTunes Deluxe Edition includes, in addition to the interview and the two bonus tracks, a third bonus track: "Good King Wenceslas."
The first 1,000 orders of the regular edition of the album from Amazon UK included am exclusive Christmas card (the final picture below).
Photos
News