A Piano: The Collection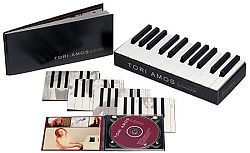 Release Dates
Released in most countries on September 26, 2006.
Sweden — September 27, 2006
Germany, Italy, Netherlands — September 29, 2006
Canada — October 3, 2006
France — October 16, 2006
Digital Release — December 19, 2006
Photos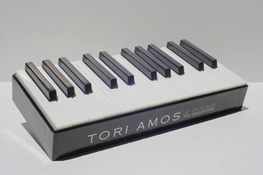 Tracks
Disc A 440 Hz (Little Earthquakes extended)
Leather (2006 Remastered Alternate Mix) 3:11
Precious Things (2006 Remastered Alternate Mix) 4:28
Silent All These Years (2006 Remastered LP Version) 4:10
Upside Down (2006 Remastered B-side Version) 4:20
Crucify (2006 Remastered Unedited Single Version) 4:27
Happy Phantom (2006 Remastered LP Version) 3:12
Me And A Gun (2006 Remastered LP Version) 3:42
Flying Dutchman (2006 Remastered B-side Version) 6:28
Girl (2006 Remastered LP Version) 4:07
Winter (2006 Remastered LP Version) 5:42
Take To The Sky [Russia] (2006 Remastered B-side Version) 4:18
Tear In Your Hand (2006 Remastered LP Version) 4:42
China (2006 Remastered LP Version) 4:59
Sweet Dreams (2006 Remastered B-side Version) 3:26
Mother (2006 Remastered Alternate Mix) 7:01
Little Earthquakes (2006 Remastered LP Version) 6:52
Disc B 493.88 (Pink and Pele)
Cornflake Girl (2006 Remastered LP Version) 5:04
Honey (2006 Remastered B-side Version) 3:41
Take Me With You (previously unreleased) 4:40
Baker Baker (2006 Remastered Alternate Mix) 3:25
The Waitress (2006 Remastered Alternate Mix) 3:05
Pretty Good Year (2006 Remastered LP Version) 3:20
God (2006 Remastered LP Version) 3:53
Cloud On My Tongue (2006 Remastered LP Version) 4:34
Past The Mission (2006 Remastered Alternate Mix) 4:05
Bells For Her (2006 Remastered LP Version) 5:17
Yes, Anastasia (2006 Remastered Alternate Mix) 9:21
Blood Roses (2006 Remastered LP Version) 3:54
Mr. Zebra (2006 Remastered LP Version) 1:05
Caught A Lite Sneeze (2006 Remastered Alternate Mix) 4:24
Professional Widow (2006 Remastered B-Side Merry Widow Version) (Live) 4:03
Beauty Queen/Horses (2006 Remastered LP Version) 5:56
Father Lucifer (2006 Remastered LP Version) 3:39
Marianne (2006 Remastered LP Version) 4:07
Disc C 323.25 Hz (Pele/Venus/Tales)
Walk To Dublin (Sucker Reprise) (previously unreleased) 5:24
Hey Jupiter (2006 Remastered B-side Version) (Dakota Version) 6:03
Professional Widow (2006 Remasteed Non-LP Version) (Armand's Star Trunk Funkin' Mix) 3:46
Putting The Damage On (2006 Remastered LP Version) 5:07
Bliss (2006 Remastered Alternate Mix) 3:41
Suede (2006 Remastered LP Version) 4:55
Glory Of The 80's (2006 Remastered LP Version) 4:02
1000 Oceans (2006 Remastered LP Version) 4:16
Concertina (2006 Remastered Alternate Single Mix) 3:56
Lust (2006 Remastered LP Version) 3:51
Datura (2006 Remastered LP Version) 8:25
Sugar (2006 Remastered Live From Sound Check Version) 5:10
The Waitress (2006 Remastered Live Version) 9:48
Snow Cherries From France (2006 Remastered LP Version) 2:53
Doughnut Song (2006 Remastered Alternate Mix) 4:19
Disc D 587.33 Hz (Scarlet/Beekeeper/choirgirl)
A Sorta Fairytale (2006 Remastered LP Version) 5:29
Not David Bowie (previously unreleased) 3:54
Amber Waves (2006 Remastered LP Version) 3:39
Iieee (2006 Remastered Alternate Mix) 4:07
Playboy Mommy (2006 Remastered Alternate Mix) 4:04
The Beekeeper (2006 Remastered LP Version) 6:48
Jackie's Strength (2006 Remastered LP Version) 4:26
Zero Point (previously unreleased) 8:55
Sweet The Sting (2006 Remastered LP Version) 4:14
Ode To My Clothes (previously unreleased) 2:03
Spark (2006 Remastered LP Version) 4:12
Intro Jam & Marys Of The Sea (previously unreleased) 8:54
Cruel (2006 Remastered Alternate Mix Version) 4:04
The Dolphin Song (previously unreleased) 5:50
Gold Dust (2006 Remastered LP Version) 5:51
Disc E 659.26 Hz (Bonus B-Sides)
The Pool (2006 Remastered B-side Version) 2:49
Never Seen Blue (2006 Remastered B-side Version) 3:38
Daisy Dead Petals (2006 Remastered B-side Version) 3:00
Beulah Land (2006 Remastered B-side Version) 2:57
Sugar (2006 Remastered B-side Version) 4:24
Cooling (2006 Remastered B-side Version) 4:37
Bachelorette (2006 Remastered B-side Version) 3:34
Black Swan (2006 Remastered B-side Version) 4:01
Mary (2006 Remastered B-side Version) (Alternate Mix) 4:40
Peeping Tommi (previously unreleased) 4:19
Toodles Mr. Jim (2006 Remastered B-side Version) 2:49
Fire-Eater's Wife/Beauty Queen (Demo Version) (previously unreleased) 3:11
Playboy Mommy (Demo Version) (previously unreleased) 1:34
A Sorta Fairytale (Demo Version) (previously unreleased) 3:08
This Old Man (2006 Remastered B-side Version) 1:44
Purple People (2006 Remastered B-side Version) 4:09
Here. In My Head (2006 Remastered B-side Version) 3:52
Hungarian Wedding (2006 Remastered B-side Version) 0:59
Merman (2006 Remastered B-side Version) 3:46
Sister Janet (2006 Remastered B-side Version) 3:59
Home On The Range (2006 Remastered B-side Version) (Cherokee Edition) 5:20
Frog On My Toe (2006 Remastered B-side Version) 3:40
Special Editions
Exclusive to Barnes and Noble. The B&N edition contains the five discs of the regular edition PLUS a sixth disc: a Region 1 DVD containing a 27-minute interview with Tori, shot at her home studio, in which she discusses her career and the making of this one-of-a-kind set. We are told the DVD is Region 1.
A Sorta Fairytale
Mary (Tales Version)
Cornflake Girl
Baker Baker (alt. mix: Kevin Killen, 1994)
Silent All These Years
Flying Dutchman (alt. mix: John Beverly Jones, 1992)
Playboy Mommy (remix: Hawley/van Limbeek, 2006)
Crucify (Unedited Single Version)
Take To The Sky (Russia)
God
Cruel (alt. mix: Hawley/van Limbeek, 2006)
Sugar
Ad

Quotes
Any time you get an opportunity to put something out, I'm in the mind that you seize the project with both hands. And I'm not one to give the record company my blessing and do what [they] think is best. I don't think that anybody knows what's best except the composer or the midwives of the songs themselves1.
I had access to all the material since 1990, and my goal was to try and retain the integrity of everything. When you're putting together a work of this magnitude, [the songs] all have to work together. I wanted to have some kind of story—a payoff denouement for each record1.
[Zecharia Sitchin's 'Earth Chronicles' series] talks about Rome ending—B.C. and then A.D.—and the idea of what was supposed to happen at zero point. I found there to be a strange correlation between America being the super power that it is and Rome being the super power that it was, and what comes along with that kind of power… how you can really forget the responsibility that you have to humanity. The ego becomes bigger than spirituality1.
When we put ["Take Me With You"] up on the boards they looked at me and said, "Well, all it needs is a vocal." I said, "I can't do that 16 years later." I thought about it and the song really started to call me to it. After 48 hours, I could finally finish the lyric and record it1.
There were no remixes allowed to the first two records. That was my law. It's not a democracy. Well, it is 'til it isn't. When it comes to my world, I have to answer to the songs1.
I was approached by Rhino Records and when you get an opportunity to pull your work together while you still can hear (both laugh), you have to grab it and go2.
It's sort of like a time machine. This box set, for me, is similar to the Tardis. Where you go in, in Doctor Who and you're able to travel. Just within moments of hearing a song, I'm back to that moment in time. And I have always loved that about music, I don't know if you felt that way, you can immediate go to another place in time without leaving your chair, and I did find that when…when I was coming through these2.
In my life I've really enjoyed certain boxsets, especially Led Zeppelin's. So when Rhino Records approached me, I decided here was a chance—before I get too old and senile—to make a collection of my songs, add some unreleased tracks and remaster everything, but still hold true to the original recordings3.
I tried to pick what I thought was still holding up after all this time, including the original "Little Earthquakes", which was rejected in 19913.
The box set is the end of an era—it's very much about pulling everything together over the last fifteen years before I jump ship. You have to sense what is going on in the world—it's a really disturbing place right now. A few years ago I had more confidence that people would make the right choices for our leaders in America and they didn't. So therefore it's time to take the gloves off3.
You get more of an octave with this piano. It's keys, and you open the keys, and inside this box there's the music five discs and a picture book really. Not, not a pamphlet, but a real book4.
The Chinese made it. Part of it was made in China, part of it was made in Mexico, and the third part was made in Pennsylvania4.
I think you pull it all together, what I've tried to do anyway, is to pull all these pieces—the Minister's Daughter, The Pianist that was going to be a classical something-or-other and wore black dresses that were way too tight and became a hussy and it didn't happen, and the side of me that went through some violent things and survived it, and then there's the side that became a Mum—and all of that is in this work that's A Piano, and then I'm…I'm gonna do something different4.
I'm not gonna stop, but this is the end of the last 15 years. Fifteen years of my life4.
My goal was to try and be objective. When you're putting together a work of this magnitude, it has to work as a body of work now, not as individual records over the years. There's a side of me that really forced myself to be in the producer's chair, and that means that you have to make decisions sometimes where the emotional self has to walk out the door for a minute, because you can get attached to things for the wrong reasons5.
I've been putting this box set together, and I had no idea that I'd be going through a catalogue of over fifteen years. Not just one mix of the track that might be chosen, but every single mix that we had on it. What I didn't realize when I agreed to do the project is because the record industry has imploded—how they've kept the tapes over the years—some of them have been severely damaged. I'm talking about the old tapes, the old analog tapes. Therefore, we had to get everything brought back to our studio in Cornwall and comb through it to find the closest thing to what I thought was the integrity of the original piece6.
I've told people I felt like Billie Piper, not as a musical person, but like in the TARDIS…A box set is a sonic TARDIS, you go into a different time frame and you are there. Every cell of your being is back in 1990 or 1993. It took seconds to time travel6.
1 AOL Music Blog (September 11, 2006)
2 Studio 360 Interview (September 15, 2006)
3 Clash Magazine (September, 2006)
4 BBC Radio 2 Interview (September 17, 2006)
5 AOL Music Blog (September 18, 2006)
6 BBC 6 Music Interview (September 17, 2006)
Toriphile Reviews
Submit your review of A Piano or read reviews by fellow fans over this way.
News