News: Daily Telegraph Article (September 15, 2007)
Posted by woj on
Wednesday, September 19, 2007
|
Articles
This brief article in which Tori discusses the Britney Spears improv appeared in the September 15th edition of the Daily Telegraph. Thanks to lucy for sending us a transcription and to Kylie who slipped us a scan which includes a nice photograph of Tori as well: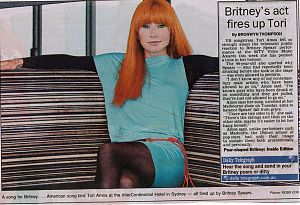 The Daily Telegraph also posted a longer and somewhat differently-angled version of the article online reporting on the improv itself and including a link to the audio clip on Spinner.
---
Britney's Act Fires Up Tori
By BRONWYN THOMPSON
Daily Telepgraph
September 15, 2007
US songstress Tori Amos felt so strongly about the vehement public reaction to Britney Spears' performance at the MTV Video Music Awards this week she has penned a tune in her honour.
The 44-year-old also queried why Spears — who had reportedly been drinking before she took to the stage — was even allowed to perform.
"I don't know any of my contemporary male artists who have been allowed to go on," Amos said. "I've known guys who have been drunk or on something and they get pulled, they're just not allowed to go on."
Amos says her song, unveiled at her Melbourne show on Tuesday, aims to balance Spears' fall from grace.
"There are two sides to it," she said. "There's the ratings and then on the other side, maybe it's easier to let her hang herself."
Amos says, unlike performers such as Madonna, the Disney school of pop stars had only their image to sustain them both professionally and personally.
---
Ode to Britney
By Bronwyn Thompson
September 14, 2007 12:00am
SINGER-songwriter Tori Amos sang an off the cuff song about Britney Spears' spiralling life during one of her Australian concerts this week.
Amos performed the song in Melbourne on Tuesday, in the aftermath of Spears' disastrous MTV Video Music Awards performance.
"I came up with a song that I think shows both sides. Because she did set herself up, as well,'' Amos said.
Spears had reportedly been drinking before her performance, and had spent many nights prior to the show out partying in Las Vegas.
"When you come out of the Disney system, you're so sheltered from how things really are,'' she said. "Sometimes these people – it's not just Britney, there are a few of them – aren't able to function. They just don't know how to.''
The 44-year-old artist also cites Spears' rift with her mother Lynn as a possible reason for the pop star's erratic behaviour.
"If you don't have a good relationship with your mother, then you'd better get a good relationship with somebody who fills that hole,'' she said. ``And if I put a restraining order on my mother, then I'm going to defecate all over myself -it's just going to happen. But then you can't defend me.
"You can't defend people who shut the people out of their lives. We can't make excuses for that.''
Amos recently told Spinner.com "You see a lot of women today – maybe in magazines – crawling out of cars and thinking it's sexy,"
"(And) for the most part, you don't hear guys going, 'Wow! I am just blown away by that beauty or by that woman's way. There's something about her.' No. Do you know what they do? They laugh. They laugh when we're spreading our legs and crawling out of a car. It's tragic. Ultimately, we demean ourselves."