News: Yoav: Meet The Opener
Posted by woj on
Tuesday, October 02, 2007
|
Touring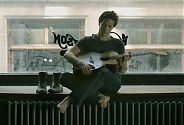 Over the weekend, The Bowery Presents, promoters for the Albany, New York City and Syracuse shows, listed Yoav as the opener on their show listing. The Santa Barbara Independent's listing for the Arlington Theatre show concurs. And while the tour dates on his website don't show anything after September, the tour dates on his MySpace are beginning to look suspiciously like Tori's. (One assumes that the October 1st show at the Palace Theatre in Albany is a typo.)
Update (2007-10-07): Yoav's website has been relaunched and all of Tori's tour dates are now listed.
So, it would seem we have our opening act for the North American leg of the tour.
For everyone planning on hitting one or more of the shows on the upcoming tour, check out any of the several songs from Yoav's debut album that can be streamed on his website or MySpace to get an idea of who will be kicking the evenings off.
Thanks to Saar for the tip!