News: Washington Blade Concert Review (October 27, 2007)
Joey DiGuglielmo's review of the October 26th show at DAR Constitution Hall in Washington was published on The Washington Blade's Blog on October 27th. (The Blade is a weekly publication serving the gay community in the Washington, DC area. If this article should appear in the print edition of The Blade, please let us know!)
Thanks to DMC for the link!
---
Singer Tori Amos returns home on latest tour
About four songs into last night's Washington stop at D.A.R. Constitution Hall on the "American Doll Posse" tour, it started to become clear how far hometown gal Tori Amos has come as a legit rocker. It became only more obvious as the evening unfolded.
With a tight supporting band, Amos brought a refreshing rock urgency early in the evening to songs like "Almost Rosey" and "Tombigbee," two, from the new "Posse" album and a "Scarlet's Walk"-era B-side respectively, that had never grabbed me on disc but had renewed life on stage thanks to Amos' supporting players.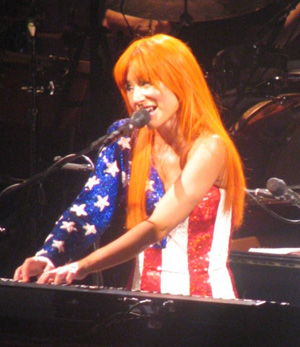 There are always lovely moments at Tori Amos concerts but her previous tours have sometimes veered too closely toward becoming snoozy piano recitals. There was always something to be impressed by, some gem you were glad she pulled out, but the cumulative effect, especially of her solo shows, could be numbing.
She was never a rocker despite the early '90s alt. rock scene upon which she emerged. And from outings as far back as her solo appearance at the same venue on the "Strange Little Girls Tour" to the "Sunny Florida" concert film to the stops released as official bootlegs from the "Beekeeper" trek, Amos sets often have a heavy tediousness to them.
Refreshingly that wasn't a problem last night as just about every selection, save two piano-only numbers Amos performed mid-show during a too-short acoustic set, was ramped up a notch on the rock scale. And despite having been on tour for months, Amos was in gloriously full voice throughout the evening.
"Bells For Her," a corseted model of reservation on "Under the Pink," and the foreboding "Beekeeper" track "Parasol," became percussive and jammy with long-time Amos bandmates Matt Chamberlain (drums) and Jon Evans (bass) joined by electric guitarist Dan Phelps.
Songs like "Hotel" and "Code Red," rockers already, rendered their album versions all but obsolete last night, both rumbling with renewed vigor. The latter, especially, provided Phelps with a chance to show off ostentatious guitar-god squeals while Amos panted almost orgasmically on the outro. Even a mid-set interlude that afforded Amos time for a costume-and-wig change, gave the guys a chance to shine. On disc, the "Professional Widow" remix is banal, silly fun but last night it became a handy vehicle for deftly done, band jam interplay.
And thankfully no precision points were lost from the increased intensity. Amos and company sounded tight and in impressive cohesion as they rattled of a lean two hour, 10 minute set that was, for the most part, skillfully paced.
There was a great mix between songs that had new arrangements or flourishes and those that were faithful to their album incarnations. For every "Hey Jupiter," which had a desolate barrenness to it thanks to a new chord progression on its chorus, or the aforementioned heavier rocking moments, there were sweetly nostalgic older songs like "Cornflake Girl" and "Precious Things" for which Amos didn't change a thing. Despite their dread-filled lyrics ("this is not really happening") they were like comfort food, Amos-canon touchstones, lovingly placed amid the more adventurous performances.
I had concerns going into this. I've found the characters Amos has adopted for her latest album and tour gimmicky and pretentious. The saving grace is that, as with the album, the proceedings last night were equally enjoyable if you ignored the role playing and took the music at face value. For you die-hards, "Isabel" opened last night's show (Amos comes out as different characters on different nights).
The two bring-down-the-house moments came in disparate places. As one might expect, "Posse's" first single "Big Wheel" was made for concert performances. It bounces and rollicks on disc but became a playful call-and-response Tori/crowd interplay last night with the singer trading lines and hand-clap patterns with the audience.
The other highlight came out of nowhere. The momentum-sapping "1,000 Oceans" was quickly redeemed by a haunting, yet aggressive rendition of "Concertina." Amos' trademark "spread eagle" trick of playing the piano with her left hand while using her right on a facing electronic keyboard always seemed more stunt than sonic necessity before. But last night I changed my mind on that as the electronic motif that repeats throughout the song sounded just right on the Yamaha electronic with accents from the Bosendorfer piano.
There were a few numbers that may have been chosen for the Washington locale. Amos opened with "Yo George," a scathing shout-out to the president, but also included the always-poignant "Jackie's Strength," a hymn of sorts to the former first lady.
Despite a reference to formerly playing, "just down the street," Amos had little to say, considering it was her hometown. An anecdote or two would have been nice but she seemed more interested in connecting via song than tale. (If you want Amos tales, pick up "Piece By Piece," her quasi-memoir. It's the best rock star autobio I've ever read because it focuses on the work, which is why we become interested in artists in the first place.)
Amos' outrageous Myra Breckinridge-esque outfit, an off-the-shoulder, one-sleeved jumpsuit of stars-and-stripes sequins was, yes, ludicrous, especially with the carrot-orange wig she's been wearing of late, but hey, as was made abundantly clear, it was a rock concert, so why not?
Despite an unappreciative, still-arriving crowd, opener Yoav Sadan was a delight with his haunting, eastern-flavored vocals and stunning guitar work. I couldn't figure out what kind of setup he had, but he used his acoustic guitar as much for percussion as strings, tapping out rhythms and vocals, then sampling them for playback while he virtuosically picked. I've never seen or heard anything quite like it.