News: Between The Lines Concert Review (November 1, 2007)
Thanks again to Robert Beard who also pointed out Chris Azzopardi's review of the October 27th concert at the Fox in Detroit that appeared in the November 1st edition of Between The Lines.
---
Tori tears it up in Detroit
Stage-commanding songstress' show brings fierce grooves
By Chris Azzopardi
Originally printed 11/1/2007 (Issue 1544 – Between The Lines News)
Tori Amos
Oct. 27
Fox Theatre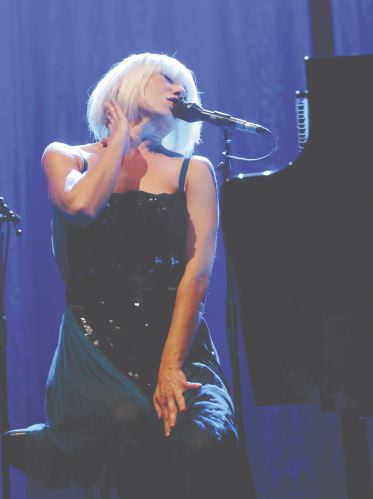 No doubt: When people call Tori Amos' fan clique a cult, they're not kidding. The musician's unwavering horde, which filled the Fox Theatre last Saturday, was sucked in by the striking strangeness of the piano-bench straddler, grooving arms-up in their seats, rushing to the stage pre-encore and rooting like it was a rock concert. And it was.
Despite nostalgic wrist-cutting numbers – few of which were performed during her boisterous show – Amos resisted her tendency to slide into schmaltzy slow numbers. Instead, she swept through a just-over-two-hour set, covering her expansive song catalog and – no surprise here – showing off wizard-esque piano prowess.
Dressed in a black-sequined dress and donning a short white wig, Amos first sashayed onto stage as Santa, an alter ego from her guise-gang – all of which were birthed on her latest return-to-quirky disc, "American Doll Posse." Rubbing her hands against her groin region, she convincingly emerged as the saucy sidekick. She soulfully tore up several tunes from the said album – the sensual "Body and Soul," the infectious be-boppin' "My Posse Can Do" and the pop-friendly "Secret Spell" – before she flew off the stage, while her three-piece band jammed to "Professional Widow."
When she strutted back in a glittery, green one-piece jumpsuit, her red locks (or those of another wig, rather) were a sign: Tori Amos had officially arrived. As herself.
She launched her set with "Big Wheel," the feminist anthem where Amos briefly breaks from the honky-tonk beat to declare herself a hot piece of ass. "I am a M-I-L-F," she declared, then stopped, letting the crowd finish: "Don't you forget!" they shouted. She followed it with the road-trip arrangement of breezy vignette "A Sorta Fairytale" before scooting into eerie terrain with "Black Dove." Then – she stalled.
"OK, stop. Just stop. I'm sorry. I have to take my corset off, 'cause it's choking me to death. Can you guys play something? Just play something. I'll be back," she interjected smack dab in the middle of the explosive chorus. A rare candid moment, yes. Not just because of its abrupt nature; it also was one of few non-musical statements she made during the show, relying mostly on body language to express gratitude to the crowd.
Though she resurrected pre-posse fan-faves like her debut album's "Crucify" and "Cornflake Girl," the absolute highlight came during a stripped-down acoustic set called "Tori & Boe," in reference to her prized piano, the big black Boesendorfer. Her weary voice achingly hushed on "Baker Baker," she mesmerized with her jilted-love lyrics. The solo set was short-lived, though – which was a bummer considering Amos' soul-stirring chops were highlighted alongside sparse instrumentation, whereas the band's tight guitar and drum playing sometimes buried her tricky vowel-emphasized vocals.
"Precious Things," a glowing, crowd-pleasing nugget that showcased Amos' piano deftness (as did a nearly-three-minute solo on "Siren"), opened dramatically with her on the Boe before surging into a rip-roaring, meaty morsel as a plethora of fans filled the orchestra pit. Ending in a sweeping melancholy moment, with the sing-along "Hey Jupiter," Amos and Co. gave the originally piano-only number a fuller, sonic feel.
And whether the pensive kooky-queen passionately played weepy numbers, like the aforementioned dreary ditty, or went the rock route, straying from Amos' infectious draw was like pulling two magnets apart. The way she straddled the piano bench as she simultaneously banged against her Boesendorfer and keyboard, her erratic head maneuvers and that voice – a voice that, no matter how difficult it was to decipher what the hell floated from her mouth, was a downright catch.