News: San Diego Comic-Con International Wrap-Up
Posted by woj on
Wednesday, July 30, 2008
|
Cherries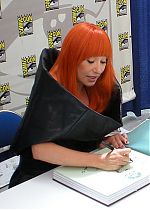 Please accept my humble apologies for the belated Comic Con update. Flight delays (not mine) and a birthday (mine) conspired to keep me away from the computer since Sunday. So, with the lame excuses out of the way…
Jason was the first to respond to our call for Con reports, letting us know that he posted the picture on the right over on Molly Knight's website, which he helps to maintain. Quoth he, "I can't really say too much right now because I'm utterly exhausted, but the panel was very good and was mostly the creators talking about how the project and their stories came to be, and how inspiring it was to have complete creative freedom."
Comic Book Resources, which covered the Con extensively, has a lengthy article describing the panel discussion in depth. If you weren't there, this is required reading for getting the lowdown on the panel! It's an excellent summary of what was discussed with many quotes from all participants. CBR also included a couple more photos with the piece for your visual edification (thanks Foxy and Devon).
Needless to say, Tori's dress has garnered some attention. Love it or hate it, it certainly is something — and that's better than nothing. You can find more photos of the whole ensemble at Collecting Bees' Image Gallery, Valeri's Comic-Con Flickr set and krysaia's photostream. Unsurprisingly, gossip sites such as Absolutely Fabulous, E!, Heat and Yahoo's OMG! got in the act too. (Thanks Valeri, mayfly, Chrysta, lou, drinian, Mark and Amy!)
UPDATE Rantz has added a number of SDCC photographs to his Flickr. There are a few from media interviews Tori and he did for the book as well as several featuring Tori and the creators from the signing on Saturday.
Finally, several folks who attended the Con wrote in to describe their experience.
Nicole writes:
My family and I had the thrill of our day/week/year when we met Tori at Comic Con on Saturday and had her sign our copy of "Comic Book Tattoo". She was so sweet and even signed a photograph my daughter brought (of herself at the piano). I have been a fan of Tori since "Little Earthquakes" came out and feel she is as much a part of my life as anyone dear to me, so you can imagine how touching it was for me to get a chance in person to thank her and try to express in one minute a bit of what is in my heart about her. Our family lost practically everything in the San Diego Wildfires last October, our whole collection of Tori's music along with her books and videos, minus the few we had in our cars at the time; this day made a great memory to replace some of what we lost.
Vanessa said:
I was at the Comic Book Tattoo Tori signing on Saturday, July 26th and got to meet Tori for the very first time (and I turned 27 yesterday!). My husband arranged for my friend to get one of the 200 spots reserved to get the new graphic novel signed. The signing was from 2 PM to 4 PM, and I was about the 75th person in line at 1 PM. The convention was very strict about not having posed pictures and only getting one item signed. When it was my turn, I crouched at the signing table and asked Tori what her favorite children's literature is. She replied that Tash loves the Hans Christian Anderson tales. They're full of mythology unlike the modern fairy tales. She also commented that Tash likes Harry Potter. I was smiling the entire time she was talking! I walked away with my hardback Comic Book Tattoo signed with a smiley and a kiss from Tori!!! I had goosebumps from my arms to my legs.
Devon adds:
I just got back from a very long, but very fun trip to the Con. I attended both the panel and the signing. Tori looked wonderful and seemed in very good spirits. She was very charming in the panel and it was nice to hear from some of the artists who worked on Comic Book Tattoo.
Valeri writes:
I was at Comic Con! Unfortunately I missed the panel, but I did get into the signing. Given the fact that we were in a giant hall with thousands of other people, they did do their best to make it as intimate as possible. Each person was given a few minutes alone to go up and get one item signed. Tori was exceptionally sweet and looked lovely. She really does know how to make each person feel like they are the only other person in the room. :)