News: Additional Details About the North American Live at Montreux
Posted by woj on
Tuesday, September 16, 2008
|
Releases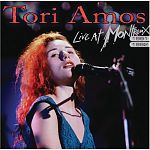 We have received confirmation from Eagle Rock Entertainment that the North American release of the Live at Montreux CD will, in fact, be a single disc with the abbreviated 16 song track list mentioned previously. However, we're told that the omitted 3 tracks from the 1992 concert — "Crucify," "Silent All These Years," and "Happy Phantom" — will be available exclusively as digital downloads from from Amazon.com so folks in the States and Canada will not have to resort to ordering the CD from overseas to get the complete 1992 performance. Of course, at Amazon.co.uk's current price of £8.98, self-importing isn't a bad deal for a double-disc release — and other UK and European retailers have the same double-disc edition available for a similar price.
UPDATE: ToriAmos.com and Everything Tori indicate that the 3 tracks will only be available to those who purchase the album — either a physical CD or a digital download — from Amazon.
And to be absolutely clear, the North American DVD, available from Amazon, Barnes & Noble, and many other e-tailers will have the complete performances of both concerts.