News: Live at Montreux Hits The Streets
Posted by woj on
Tuesday, September 30, 2008
|
Releases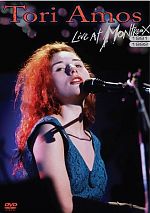 Live at Montreux 1991/1992 was released last week in Europe and this week in North America.
For those who have somehow missed the boat, this release presents Tori's first two performances at the Montreux Jazz Festival: 1991's pre-stardom concert and the following year's appearance when Tori's name had sky-rocketed to much greater heights. The release is available on both CD, DVD and, according to Amazon.co.uk at least, a Region B Blu-ray DVD due December 1st.
The DVD issues are identical in North America and Europe, including the entirety of both performances (the only difference being the region encoding).
However, the CDs are a bit different: while the European issue is a double-disc set containing all of both concerts, the North American edition is a single CD with all of the 1991 concert and all but 3 tracks from the 1992 concert. The 3 missing songs from the North American edition are exclusively available on this side of the Atlantic from Amazon's digital music store to those who purchase the complete album download from Amazon.
The DVD or CD can be ordered from all the usual places, though be advised to make sure you are purchasing the appropriate region DVD for your DVD player. If you'd like to support Tori directly, the Tori Store is offering the region 1 DVD for sale.