News: Spinner SXSW Showcase Review (March 20, 2009)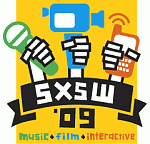 As we know, Spinner was in attendance at Tori's showcase set at SXSW last night and they posted this short review in the wee hours of this morning… Thanks to Ash-Blaize for the link!
---
Tori Amos Seduces SXSW
"It' good to see some familiar faces," Tori Amos said from the stage at her SXSW performance Thursday night at Austin's La Zona Rosa. "I've missed you guys." Judging by the wealth of screams and flashing bulbs — not to mention an unabashedly enthusiastic introduction by celebrity blogger Perez Hilton — the feeling was mutual.
Amos kicked off her 45-minute set with 'Lady In Blue,' a new tune off her May 19-due album, 'Abnormally Attracted to Sin." In fact, she would debut three new songs, with 'Curtain Call' and 'Mary Jane' rounding out the trifecta. 'Mary Jane,' Amos admitted, was a true story about a teenage boy who asked his mother if he could spend the weekend with, well, Mary Jane. His mother, who was leaving town, thought it as a birds and bees moment. Turns out, dude just wanted weed.
The performance was Amos' first since 2007, and jumpstarted the promotional throes for 'Abnormally Attracted to Sin,' but Amos was sure to dish out some vintage favorites. Among them: 'Crucify,' 'Silent All These Years' and 'Take to the Sky,' during which she added a little bit of Carole King's 'I Feel the Earth Move' for good measure. But it was the last line that Amos belted of the night that served as both assurance and a warning for things to come: "She has risen."
Amen.