News: The Latest Newsletter: Now With More Officiallicousness!
Posted by woj on
Thursday, April 02, 2009
|
Touring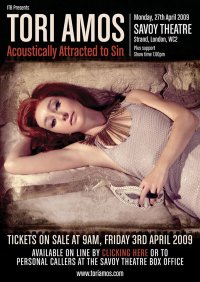 Earlier today, ToriAmos.com sent out a newsletter update to their official mailing list (subscribe here if you're not already on it and want to join) confirming the special Acoustically Attracted to Sin London concert and the "Welcome to England" video premiere we mentioned earlier. Updates also were posted the official websites, Myspace and Facebook.
To recap: the Acoustically Attracted to Sin will take place at the Savoy Theatre in London on Monday, April 27th at 7:00 PM. Tickets will go on sale online at 9:00 AM BST on Friday, April 3rd via Ambassador Tickets. One hour later at 10:00 AM BST, tickets will also be available for phone orders from the Savoy Theatre box office at 0871 297 5454 in the UK (more contact information via Ambassador).
Note: Tickets will be limited to 2 tickets per household!
As for the "Welcome to England" video premiere, it will be available 12:00 AM EDT on Yahoo! Music.