News: Special Midwinter Graces Showcase in London Announced!
Posted by woj on
Tuesday, November 10, 2009
|
Touring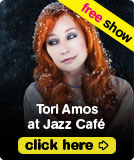 According to Gigwise (via WENN.com), Tori will be playing a special one-off show at The Jazz Cafe in Camden on December 2nd. Entry to the concert will require a wristband that will be handed out at HMV at 150 Oxford Street starting at 8:00 AM on the day of the performance that reportedly will showcase songs from Midwinter Graces as well as some older songs.
One assume this is the special announcement we were to be expecting from HMV. No details on their site yet but now that the beans have been spilled, one suspects it won't be long…
Update: As expected. HMV has added the details about the Jazz Cafe show to their events page:
Tori Amos will be supporting the release of her brand new album 'Midwinter Graces' by playing an intimate free show at The Jazz Cafe in London on Wednesday 2 December.
Fans can pick up free wristbands which allow them access to the event. Wristbands will be available only from hmv, 150 Oxford Street, London, W1D 1DJ from 8.00am on Wednesday 2 December onwards. One wristband per customer maximum, in person only, while stocks last, subject to availability, at participating store only.