News: "In The Studio" Out Now!
Posted by Beth on
Friday, April 29, 2011
|
Releases
UPDATE: We have it on good authority that In The Studio is no more than a collection of previously published interviews. If you've kept up with the press on Tori, it's probably nothing new for you.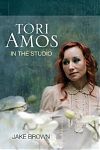 Surprise! Jake Brown's book on Tori, In the Studio, was due out in May, but it was released a little bit early and is available now. According to Independent Media Magazine,
The book will have interviews with people who had the fortune of working with Amos in the studio, including producers, sound engineers and band members.
It goes in to detail album by album of Amos'.
Brown also touches on Amos' artistic process, which should intrigue everyone to finally see what inspires all her intense songs.
Thanks to Vinny and blindhope for letting us know!