News: Notting-Else Matters
Posted by woj on
Thursday, May 15, 2014
|
Touring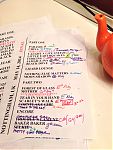 It was bound to happen sooner or later — there was no cell service in Nottingham's Royal Concert Hall so no one was unable to send setlist updates as the show unfolded.
Of course, we know what that means: waiting until the next day for people to make their ways home, sleep, wake up and e-mail the songs played to the really-deep-thoughts mailing list so that Mikewhy could get things updated on The Dent…naaaah! Just kidding! We all just had to wait until after the show ended for folks to emerge and post pictures and updates to social media and for Tori's team to post the setlist itself to Instagram. Just like olden days!
But seriously, the complete setlist has been posted in the Tour section. The show included several tour debuts: "Cooling", "Little Earthquakes," "Jamaica Inn," "Scarlet's Walk," and "Black Dove (January Girl)." During the Lizard Lounge, Tori played two rather different covers: Metallica's "Nothing Else Matters" and Cat Stevens' "Moonshadow." Finally, the only song from Unrepentant Geraldines that was performed was "Forest of Glass," the bonus track on the deluxe edition of the album's CD release! ("Trouble's Lament" and "Selkie" were on the written setlist but dropped in favor of "Take To The Sky" and "Pretty Good Year.")
There's been some reaction on social media and the forums about this show but, if you were there, we'd love to hear what you thought of the evening as well. Drop a review on us using the form at the bottom of the show's page. As always, media is always welcome too — we'll add what we can find but if you have any to share, please get in touch.
Many thanks to @RockettNeil, @mrgjjackson, @J1990H, @ondayslikethese, and @amygroak for sending us post-show updates on Twitter!