News: Chicago Tribune Concert Review (November 7, 2007)
Greg Kot's review of the November 5th Chicago concert at the Auditorium Theatre was published in the Chicago Tribune on November 7th, 2007. It was also posted online. The review comes with a very nice picture of Santa-without-armpit-hair. Thank you AmyWaz, Rodney, Dawn, Bianca, Ben, and Michelle for sending this in!
Note: a different picture appeared with the review in the print edition of the Tribune. Thanks to Joe for sending in a photo of it:

---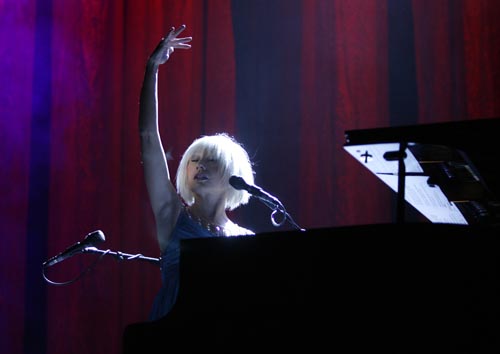 Tori Amos Taps Heavy Grooves To Dance With Her Posse Of Alter-egos
By Greg Kot | Tribune music critic
November 7, 2007
On her latest album, American Doll Posse, Tori Amos flirts with four alter-egos, which is really selling herself short.
Amos' music contains multitudes. She's got almost as many personas as she's got songs: bad girl, good wife, waif, caregiver, flirt, dominatrix, victim, survivor, earth mother, gold-digger, avenger. The pianist has made a career out of embracing the many ways females have been stereotyped throughout history, and then subverting and reinventing them all. "Doll Posse" deals with a handful of those personas, and on Monday at the sold-out Auditorium Theatre, it was Santa's turn to come out and play (Amos returns for a second show Tuesday at the Vic Theatre).
To play the Santa role, Amos donned a party dress, high-heels and coquettish blond wig, and kicked into a stomping "Body and Soul." This was body music, with heavy drums and vibrating bass lubricating the rhythms. Amos/Santa twirled her right hand as she dropped left-handed bass chords on the grand piano.
At times, Amos can get pretty wispy, with her rippling piano technique and arching soprano. If she suddenly sprouted chiffon wings and did a little Tinkerbell dance while floating over the piano, it might not come as too much of a surprise.
But "Doll Posse" grounds the singer in some of the earthiest rhythms of her career, and that carried over to Santa. "Don't tell me a woman did this to you," she sang while lights danced like red flame on the curtain behind her. She vamped it up even more on "Raspberry Swirl," which sent her spinning off the stage for a costume stage. She re-entered as the "Doll Posse" Tori, with red wig and sparkling gold body suit. But fortunately, a Cher concert did not break out, as much fun as it might've been to hear Amos belt out "Gypsys, Tramps and Thieves."
Instead, the singer went straight to New Orleans for "Big Wheel" and its syncopated barrelhouse piano. Here she celebrated her status as a wife and mother who can still smolder by appropriating a term from the world of Internet porn to smack down an arrogant suitor.
As usual at an Amos concert, it was a bad night for patriarchy in all its forms. But men are also Amos' muses, and the songs were as much about a woman's struggle to understand herself, to integrate all those demanding alter-egos into a complementary whole. The singer's voice mirrored that struggle; she favored a close-microphone style that amplified every gulp, every purr, every stretched and twisted syllable. Like Bob Dylan or Nina Simone, she's switching up the set lists every night, and turning each song into a fresh adventure. That led to a stumble on "Hotel," with Amos smiling broadly, only to ratchet up the song's turbulence even higher.
She tapped her inner Iron Maiden as the set closed on "Code Red," then vented on "Precious Things" with percussive piano work. "Hey, Jupiter" found her wandering toward the stars again, but the heavy organ kept her heels digging into the dirt.