News: Here a Tori, There a Tori (January 20, 2008)
Posted by Beth on
Sunday, January 20, 2008
|
Minutiae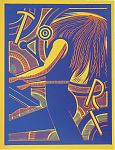 [Here-a-Tori, There-a-Tori is an occasional column rounding up small Tori mentions far and wide.]
In this edition:
Tori block prints at Alcorn Studios
Tori mentioned in "Over Her Dead Body" trailer
Tori dated Adrien Brody??
Rocktown Weekly features one of Tori's old friends
Tori in academia
Britney vid "the end of the female singer/songwriter medium"
---
Stephen and Sabina Alcorn, owners of Alcorn Studios, offer a couple of nifty woodblock prints of Tori, like the one you can see above.
From the dubious claims department, WhosDatedWho claims Tori dated Adrien Brody. While married to Mark, apparently. Whatever!
This is a bit on the obscure side, but Rocktown Weekly recently had an article about Kimberly DuVall-Early, who knew Tori back when she was still known as Ellen.
Fuse recently ran a special on "Videos That Rocked the World," and Britney Spears' "Hit Me Baby One More Time" video was introduced by none other than Miss Tori, who said, "Well, the minute I saw this video, I knew that it was the end of the female singer/songwriter medium."
Tons of cheers to Jena, Suzy, Carina, cicely, phyllis, Rocco Paone, Holly, Kimberly, and candy_lyz for sending these in.