News: Interview Serves Up Comic Book Tattoo Details, Eye Candy
Posted by Beth on
Thursday, April 03, 2008
|
Cherries
"In the case of some of the stories, the connections to the songs are apparent — not so much what you would expect, but more of a case of reading it and saying 'yeah, I can see where that comes from,'" said Hoseley. "Others, however, have just blown me away, riffing on the themes and ideas in the song in ways I never would have imagined and invariably, those ones are the stories that leave me grinning like a kid on Christmas."
Today, Comic Book Resources provides the most details yet regarding everyone's favorite impending comic book, including a first peek at the spiffy cover by artist Jason Leveque. This piece is a real feast for the eyes, with pages from "The Beekeeper" by Neil Kleid and Christopher Mitten, "I Can't See New York" by Adi Tantimedh and Ken Meyer, Jr., "Devils And Gods" by Jessica Staley and Shane White, "Gold Dust" by Hope Larson, "Leather" by John Bivens, "Caught A Light Sneeze" by Mike Maihack, "Little Amsterdam" by Leif Jones, and "Past the Mission" by Ted McKeever.
In the course of the article, editor Rantz Hoseley goes into great depth about the process of choosing work, as well as how the various songs came to new life as comic stories. Go check it out!
Thanks to Eurico, Jayce, and, of course, Rantz for sending this our way.
---
SHE'S YOUR COMICS: Tori Amos' "Comic Book Tattoo"
by Andy Khouri, Staff Writer
Thu, April 3rd, 2008 at 2:25AM PST
Updated: Thu, April 3rd, 2008 at 1:35PM PST
Last year, in our annual look at the tides and trends of comics, CBR observed the pronounced impact of popular music on some of 2007's most prominent projects. Books like Britpop fantasy "Phonogram," the written-to-music "Casanova" and Image's humongous, 450-page "PopGun" anthology —billed as the "ultimate comics mixtape" — reflect a new creative vitality fueled not just by the influence of other comic books, but also — and even mainly — by music.
Musicians themselves have also found success in the four-color world — and with legitimate comic books, as opposed to dubious merchandising projects. "The Umbrella Academy," created by My Chemical Romance's Gerard Way, has been a consistent hit with critics and readers, and "Sentences," the autobiography of rapper MF Grimm, was hailed by Time and CNN as one of the best graphic novels of 2007.
The trend maintains in 2008 with the arrival of comics' most auspicious musical import yet, Tori Amos.
The recipient of more accolades than can possibly be enumerated here, Amos is one of the most prominent figures of the 1990s alternative music scene and has continued to galvanize her famously devoted fanbase with near ceaseless touring and a steady stream of new albums, bringing her total sales to more than 12 million records so far.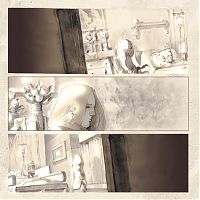 From "The Beekeeper" by Neil Kleid and Christopher Mitten
Through her many real and apocryphal connections to "The Sandman" — Amos wrote the introduction to "Death: The High Cost of Living," references author Neil Gaiman and the Dream King in her music, and is generally thought to be the inspiration for Delirium — Amos is known to comics fans as one of us. She aims to prove it with the help of editor Rantz Hoseley and Image Comics, who will this summer release "Comic Book Tattoo," a nearly 500-page deluxe-packaged anthology featuring some of comics' brightest talents including David Mack, Mike Dringenberg, Jonathan Hickman, Carla Speed McNeil, Laurenn McCubbin, Kelly Sue DeConnick, Ivan Brandon, Callum Watt, Neil Kleid, Christopher Mitten, Elzabeth Genco, Chris Arrant, and Daniel Heard — all of whom turn in new work inspired by the music of Tori Amos.
"One thing to make very clear — this isn't just a bunch of comic creators making a book and then slapping Tori's name on it," editor Rantz Hoseley said. "She's been very involved in the editorial process. Unlike a lot of anthologies, there have been multiple deadlines along the production path; plot, scripts, layouts, all of these had to be submitted so that Tori could look them over. Not in the manner of wanting to tell people what to do, or to make the book all 'the same,' but more to make sure that we had all of the bases covered in terms of really pushing the creators to work with us to make the best book possible; in order to make sure that we had a wide diversity of styles, themes and subjects and that the book wasn't too sweet or too dark.
"It was very important to her that she see how the different creators were treating 'her girls' (the songs), but at the same time, not tying the creator's hands or make them feel restricted in any way and making sure that they felt the freedom to tell the kind of story that they felt strongly about, so that the story they produced would be their best work."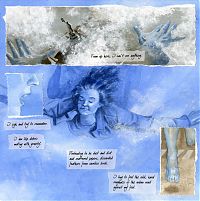 From "I Can't See New York" by Adi Tantimedh and Ken Meyer, Jr.
In "Comic Book Tattoo," each creator or creative team produces a story inspired by any one of Amos' "girls," save for her popular cover versions. "We gave the creators a 'first come first served' call for songs, telling them to let us know what songs they would be interested in doing," explained Hoseley. "More importantly, what songs spoke to them as creators. What songs told them stories and said 'hey I'm over here, you and me kid, let's do something!' We decided that way we were much more likely to get creators to bring their best work to the party, and that we'd have to arbitrate and make choices based on who was the best choice for a song when multiple people picked the same song."
Shockingly, there were but only a few instances where Hoseley & Co. had to make such calls. "It was really incredible, the diversity of choices that everyone made," he said. "Songs from every one of the albums of original material and a ton of the B-sides and soundtracks, which I honestly wouldn't have expected.
"I mean, we have a song from Y Kant Tori Read for god's sake!" laughed Hoseley, referring to Amos' derided 1980s synthpop debut, which has subsequently gone on to be appreciated by some hardcore fans.
Whether in her songwriting, performing or promoting her work, the deeply idiosyncratic Tori Amos is well known — even notorious — for her tendency to avoid the path of least resistance, and that spirit is deeply ingrained in the pages of "Comic Book Tattoo," which features no stories that simply illustrate her heavily narrative lyrics. "We didn't want a book that just had interpretations of the songs; comic book versions of music videos," Hoseley explained. "It was important to both Tori and I that this stand on its own as a killer set of comic stories regardless of whether you were a fan of Tori's or, for that matter, if you were even aware of her music. The stories had to be great comic stories first and foremost, and that drove most of the creative and editorial choices."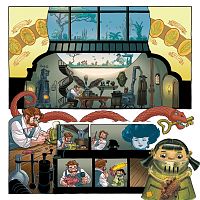 From "Devils And Gods" by Jessica Staley and Shane White
Hoseley continued, "It was important from an editorial standpoint that the stories reflected the songs in terms of their creative 'voice' to take on the themes, inspiration, or the emotional tone of the song. Basically asking the creators 'as an artist, what kind of story does this song make you think about?' Putting very loose brackets around them and letting them really get to 'play' within the comics form as creators… using that fairly open definition and the non-standard page format for the book to really give them a wide canvas to cut loose on in a way that they usually don't get to because of the realities of the market, or the issue of being able to sustain it over multiple issues.
"The end result is something pretty amazing. We've got this huge number of really insanely talented creators bringing their 'A' game on a wide variety of themes, genres, topics and subject matter. We've got science fiction, fantasy, historical drama, slice of life character studies, and some stories that really play with the rules of the traditional comic form, resulting in stories that could only be done in comics format, and the kind of boundary-pushing that you don't see all that often."
Among those stories is "Here In My Head" by Elizabeth Genco and Carla Speed McNeil ("Finder"), based on the B-side of "Winter" (UK release), circa 1992. Hoseley interprets the song as a reflection on a relationship that never seems to start or end. "[It's about] wanting someone, even though you know they want another person and that the things they say are just complete BS," he said. "From that, [Genco and McNeil] end up creating this haunting, sexy, and incredibly touching tale of a girl on the verge of womanhood, who's pinned under the weight of the upcoming choice she has to make on whether she is going to spend the rest of her life as a human, or as a bird. A transformative choice that has to be made on her seventeenth birthday, as is her familial legacy. A choice made all the harder by her love/lust for a boy who wants a different girl and who sees her as just a friend."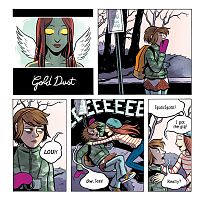 From "Gold Dust" by Hope Larson
Hoseley's list of "Comic Book Tattoo" contributors was informed by the editor's desire that all genres and styles of comics be represented, in an effort to achieve a notion of "what comics can be at their best." Pooling talent from mainstream, indie, "art school," manga and web comics, Hoseley ended up with a list of over 150 creators — a list that was compounded tremendously when SPIN reported on the existence of the Tori Amos comic book project.
"We started getting flooded with requests to contribute and I unfortunately had to turn people away because the book was already massive, and we just couldn't fit anyone else in," Hoseley said. "Maybe volume 2… I'm joking! There are no plans currently for a volume 2!"
Seth Peck and Daniel Heard contribute a piece based on one of Amos' most popular songs, "Cornflake Girl," from 1994's Under The Pink album. In "Comic Book Tattoo," the song inspires what Hoseley calls "an epic horror story of otherworldly evil and maternal betrayal. It's a dark, creepy, surreal fever dream that, like in the song, deals with the danger and pain of conformity of what 'good and proper' girls are like — but in a completely unexpected way.
"The thing that blew my mind was that Seth took all these little one-off lines, little random lyrics that really don't have anything in the way of deeper meaning in the song, and he wove this epic that seamlessly incorporates those elements as integral parts of the dialogue and narrative in a way that is pretty amazing."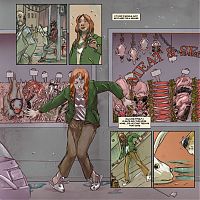 From "Leather" by John Bivens
Also among the more than fifty separate stories in "Comic Book Tattoo" is "Past The Mission" by Ted McKeever, based on the Under The Pink duet with Nine Inch Nails' Trent Reznor; "Silent All These Years," an Amos classic taken on by "Rent Girl" illustrator Laurenn McCubbin and "30 Days of Night: Eben and Stella" writer Kelly Sue DeConnick; "The Sandman" illustrator Mike Dringenberg tries his hand at 1994 B-side "Honey"; lauded "Kabuki" creator David Mack turns in "China" B-side "The Flying Dutchman"; Christopher Mitten of "Wasteland" fame illustrates "The Beekeeper"; and "The Nightly News" author Jonathan Hickman brings his visionary style to 1999 single "1,000 Oceans."
"In the case of some of the stories, the connections to the songs are apparent — not so much what you would expect, but more of a case of reading it and saying 'yeah, I can see where that comes from,'" said Hoseley. "Others, however, have just blown me away, riffing on the themes and ideas in the song in ways I never would have imagined and invariably, those ones are the stories that leave me grinning like a kid on Christmas."
A longtime friend of Tori Amos, Rantz Hoseley obviously agrees the union of comics and music is powerful, and it's a creative relationship he's encouraged the prolific chanteuse to investigate for twenty years. "When I was crashing at her place back during the writing and recording of [1992's] Little Earthquakes, I was buying a lot of comics, and I'd leave them lying around," he explained. "Eventually, I ended up convincing her to read some of them, which she loved. Books like 'Sandman,' 'Omaha,' some of Ted McKeever's work from that era, 'A Distant Soil' as well as some others. That ended up leading to Tori writing the line in 'Tear in Your Hand' where she name-drops Neil [Gaiman] and Sandman, which lead to me sneaking an early mix copy of the album to Neil at that year's [Comic-Con International in San Diego]. When Little Earthquakes was released, I ended up with the misspelled 'credit' on that song as 'Sandman comic supplier', so Tori's and my comic connection goes back almost as long as I've known her."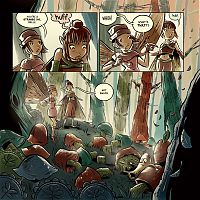 From "Caught A Light Sneeze" by Mike Maihack
Hoseley continued, "I think comics and music are inherently related. God knows, it's not like I'm the first comic creator to think that. Creators from Steve Gerber to Warren Ellis to Matt Fraction and on and on have been saying the same thing for years. Both music and comics deal with emotional 'beats' that the creator sets up in their creative work for maximum impact; knowing when to go soft and restrained, when to have a 'quiet' moment, followed by having a big powerful surge that takes your breath away, or gives you that electric charge down to the base of your spine."
The desire to create what would become "Comic Book Tattoo" persisted for a very, very long time. Various concepts like interactive discs packaged with From The Choirgirl Hotel were floated and deflected by label resistance, market forces and other circumstances over a period of years before Hoseley discovered the perfect solution to synthesize his love of Amos' music with their mutual love of comic books.
"Image put out 'Put The Book Back On The Shelf,' their anthology riffing off the songs of Belle & Sebastian," Hoseley said. "I kept thinking while I was reading it, 'You know, this is good, but Tori's songs would make a much better book.'" Later, at Comic-Con International in 2007, where Hoseley was busy promoting his "Displaced Persons" and unable to get the Belle & Sabastian book out of his mind, he approached Image Marketing Coordinator Joe Keatinge. "They jumped at it. Everyone at Image thought it was a great idea, and based on my experience with Image, I knew that they were pretty much the only publisher that would be supportive of putting the book out in the way that I had it envisioned, and still make it about the creators involved, rather than them being just a footnote."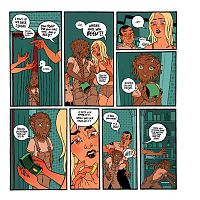 From "Little Amsterdam" by Leif Jones
Then began the process of discussing with Amos and her managers the nature of the book Hoseley envisioned in terms of tone, presentation and how the "girls" would be employed. "Tori's management team aren't the typical entertainment industry types," Hoseley said. "They really get art, music; the whole process of creation and they are awesome people to have on your side because they are great at vetting out ideas and making sure that the roadblocks and 'gotchas' are eliminated or resolved that could prevent a project from reaching its full potential. Once we had done that, Tori was on board, and we got things moving."
In keeping with the philosophy that music + comics = new audience, Hoseley and Amos aspired to an unusually high standard of production and presentation for "Comic Book Tattoo" in anticipation of that readership. "It was really important to myself and Tori that the book really stand out in terms of the format and packaging… that it look more like a coffee table art book at first glance than a comic. So everything from the dimensions of the book (12" x 12") to the heavy art book paper stock, to the cover painting; the book as a whole needed to reflect that creative direction. The idea being, in part, that people who don't normally buy comics would be able to justify it in the back of their head that 'well, this isn't really a comic book', when indeed it is.
"From my experience, almost everyone loves comics. They love the storytelling, the art, the format… it's just getting past that mental hump that many people still have that 'well, I can't buy comics, those are for kids.' So we're acting as 'enablers', allowing them an internal justification that it's okay for them to buy a comic. It was also important that we made it available in the reader's 'format of choice', since everyone seems to have their own preferences. So there will be a softcover edition, a hardcover edition, and a signed/numbered limited leather-bound slipcase edition."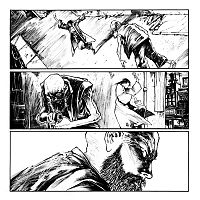 From "Past The Mission" by Ted McKeever
While Tori Amos fans likely require little to no convincing that the musician's work is well-suited for comics — or any medium, for that matter — for comics' existing readership in general, "Comic Book Tattoo" will serve as another in a line of ambitious projects seeking to articulate the relationship between the wholly auditory experience of music with the wholly visual experience of comic books. It's a challenge Amos and Hoseley are eager to meet.
"It was important to Tori and I that the book reflect the catalyst nature of art," Hoseley explained. " As a musician, you might be inspired by a comic or a movie or a book, which then fuels your own creative work. It might be difficult to pinpoint that influence, or it might be hard to identify that catalyst in the resulting work, but that inspiration; that fire, is still there. You have books like 'Phonogram' and 'Local,' where [Kieron] Gillen and [Brian] Wood and [Ryan] Kelly are putting their 'creator's playlist' for that book in the back matter of the issue, the songs that helped them focus or inspired them in the creation of the issue, so we wanted to reflect that kind of reciprocal nature in creators.
"There're over 50 stories in the book, and I think people who like comics, whether you're a die-hard Tori fan or not, are going to really dig it. I mean, I'm editing this thing, and I can't wait to have this back from the printer so I can kick back and just read through all of the stories. It's a book with stories that I, as a fan of comics, love, and I feel really blessed to have been able to be a part of it like this."