News: Catching Up With A Comic Book Tattoo...
Posted by woj on
Tuesday, April 22, 2008
|
Cherries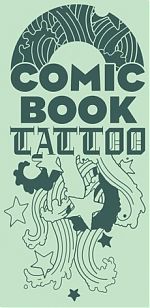 Over the past week, several more bits and pieces fell into place for the upcoming Comic Book Tattoo anthology.
First, designer TomM posted about his involvement with the project on his blog. In addition to featuring the title logo, which you can see over there on the right, Muller also mentions that there will be three editions of the collection: a regular trade paperback, a hardcover and a deluxe hardcover, with slipcase, signed by Tori, limited to 1,000 copies.
On a related note, editor Rantz Hoseley has posted photographs of "dummies" of each edition on his Flickr. These dummies are full, art-free constructs of each edition that the production team is using to gauge the look, feel and heft of the book. There are several shots of the softcover, the hardcover, the limited edition for your viewing pleasure. And even though you can't hold them, that should give you an idea of what the volume will be like to hold and peruse.
Today, DavidMackGuide.com posted the solicitation for the anthology which, in addition to a rundown of the writers, illustrators and other involved, includes this choice paragraph:
Over 80 of the best creators from every style and genre, have contributed over 50 stories to this anthology featuring stories inspired by the songs of multi-platinum recording artist, TORI AMOS. Featuring an introduction by NEIL GAIMAN, with stories by creators such as CARLA SPEED McNEIL, MARK BUCKINGHAM, C.B. CEBULSKI, NIKKI COOK, HOPE LARSON, JOHN NEY REIBER, RYAN KELLY and many, many others, COMIC BOOK TATTOO encapsulates the breadth, depth and beauty of modern comics in this coffee table format book.
Perhaps of more interest, the pricing for the three editions is also noted: $29.99 fpr the softcover, $49.99 for the hardcover and $149.99 for the signed and numbered slipcase hardcover.
And finally, MiMi points out that Amazon.com has added a listing for the softcover edition and is now taking pre-orders for the book. Their current price is the $29.99 list price mentioned previously, though it is eligible for Amazon's 5% pre-order discount
Update: Whoops! Completely missed that the hardcover and limited edition hardcover are also listed on Amazon.com for pre-order. (Thanks to Zac for clearing that up!) The limited edition is listed at $99.99 — a pretty hefty discount from the $149.99 price tag DavidMackGuide.com has. Amazon does not specify that this limited edition is signed, though it seems reasonable to assume that. We'll try to get some clarification on that and on the actual publication date which Amazon has as July 16th rather than the July 23rd date that was thrown out there earlier.