News: Tori's Soundstage DVD Due For Re-Release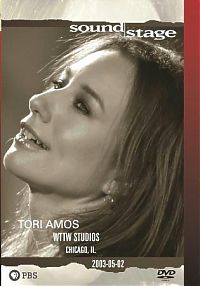 Good news: those of you who have been waiting for the DVD of Tori's 2003 Soundstage performance in Chicago Ill., Liberator Music has acquired the rights to the Soundstage series and will be releasing (or re-releasing) everything, including Tori's DVD, which has been out of print for some time.
Tori's set includes "Black-Dove (January)," "Wednesday," "Funny Day/China," "Jackie's Strength," "Taxi Ride," "Precious Things," and "Cornflake Girl." No release date has been set, but the Undercover article suggests it'll be sometime in the next two years.
Other Soundstage recordings will emerge, including Aretha Franklin, Heart, Billy Idol, Chris Isaak, Cyndi Lauper, Counting Crows, Lucinda Williams, Alanis Morissette, and Joss Stone.
Thanks, Dylo and youremyenergy, for sending this in!