News: More From Matt -- and Jon -- in Cornwall!
Posted by woj on
Tuesday, May 20, 2008
|
Them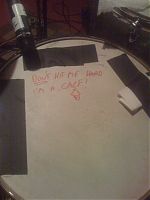 Over the weekend, Matt Chamberlain updated his site again, talking a bit about recording in Cornwall at Martian Studios with Tori and Jon Evans. Quoth Matt:
Things are going great out here in Cornwall—just been recording music and drinking lots of great coffee that my friend Jon Evans got from an amazing coffee place in Oakland, CA called Blue Bottle Coffee. This company specializes in organic micro roasting,probably some of the best coffee i have ever had—it also makes you feel like a superhuman capable of playing drums for 18 hours straight…
Still no word on just what they are recording out there though, of course!
Thanks to Jimmy Ferrin for the tip-off!