News: Spinner Confirms Montreux DVD, Talks ADP DVD (June 26, 2008)
Posted by woj on
Thursday, June 26, 2008
|
Articles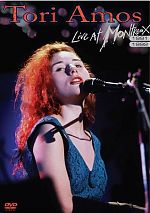 In a posting on Spinner Jessica Robertson reports on her chat with Tori about her current projects. Tori confirms that the Live at Montreux DVD will be released this Fall, describes working on The Light Princess musical and, most intriguely, reveals some scant details about the evolution of the American Doll Posse tour DVD which now appears to "a story of what happened on that road, with the touring and what happened afterwards."
Thanks to Deborah for sending us the link!
---
Rare Tori Amos Performances Coming to DVD
Posted Jun 26th 2008 2:00PM by Jessica Robertson
Filed under: News, Exclusive
It's been 15-plus years since the release of Tori Amos' breakthrough solo debut, 'Little Earthquakes,' in 1992. The girl who had teased up her hair, put on some fishnets and grabbed a sword for her first outing, Y Kant Tori Read, had traded all the window dressing for some jeans, bodysuits and a batch of melodic diary confessions. The transformation can be seen on a DVD, featuring Amos' performances at the Montreux Jazz Festival in both 1991 and '92, due this fall.
"It's the first performance that's been caught on film of the pre-'Little Earthquakes' music," the Cornwall, England-based Amos tells Spinner. "That's exciting, and we've pulled it together and mastered it [in our studio]."
As for what it was like to watch those performances, Amos recalls the time with fondness. "You look back and think, 'Oh, great,' because in 1991, this was before there were stylists, before there was makeup, before there was all that. It can be your friend in that way," she says. "But at the same time, as much as I enjoyed watching [the performances], I had no idea what was going to happen. I was playing tiny little pubs, and playing these songs in a living room. 'Little Earthquakes' hadn't been released. There had been no attention and I walked out in front of a few thousand people as an opening act in 1991. Wait, I think I was the opening act for the opening act. Then you see the 1992 performance. By then, the EP had been released and the album had been released, and you can tell that there's a different audience. It's kind of fascinating to me. You ask yourself, 'Has it been that long? Where has the time gone?" And you look in the mirror and you realize you're not that person, but you feel that person."
As for the rumored DVD release chronicling Amos' 'American Doll Posse' tour, Amos says that the original concept of a concert DVD has since morphed into something much more involved. "Well, the idea is that we're creating a story," she says. "I don't know if you can call it a documentary, but we're creating a story of what happened on that road, with the touring and what happened afterwards. I'm scoring that right now."
Meanwhile, Amos is simultaneously gearing up for the release of 'Comic Book Tattoo,' a 480-page collection of stories and art inspired by her music, due July 23, and working on Samuel Adamson's musical adaptation of George MacDonald's 'The Light Princess.'
"It seems to be a full-time commitment," she says of the musical. "I've never written for other people before. Writing for a company and researching their characters, understanding how they speak, working closely with the playwright … I've never experienced anything quite like it before. The collaboration process that I have when I'm making records is that the material is written and then you're working on arrangements. With 'The Light Princess,' another scene might be written or added or changed, which then will mean that a completely different set of songs have to be written for that scene. I like to work, so I don't mind how much work it takes. I'm not saying I'll never write another one. I'm enjoying it. But if you're writing a musical, you better like your collaborators. I happen to get along with them very well."
Check back next week when Spinner reveals exclusive art from 'Comic Book Tattoo,' as well as interviews with Amos and several of the book's contributors.