News: Montreux DVD Tracklist Revealed
Posted by Beth on
Monday, June 30, 2008
|
Releases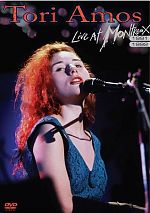 Eil.com has spilled the beans regarding the tracklist for the upcoming Live at Montreux DVD, due out Sept. 22. The recording features material from two shows, one in 1991 and 1992, and shows Tori's "fascinating progression from one year to the next as she grows in confidence and skill as a live performer, buoyed by the critical and commercial success of Little Earthquakes." Check it out:
1991 Show:
1. Silent All These Years
2. Precious Things
3. China
4. Crucify
5. Leather
6. Song For Eric
7. Upside Down
8. Happy Phantom
9. Winter
10. Thank You
1992 Show:
11. Little Earthquakes
12. Crucify
13. Silent All These Years
14. Precious Things
15. Happy Phantom
16. Whole Lotta Love / Thank You
17. Me And A Gun
18. Winter
19. Smells Like Teen Spirit
Thanks, bodyelectronic!