News: Welcome to England Digital Release
Posted by woj on
Saturday, April 25, 2009
|
Releases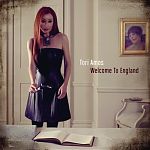 Don't have or want iTunes? Still want to legally download "Welcome to England"? Well, you're in luck as other digital outlets are offering it as well. Most notably, Amazon MP3 has the tune for download but you can also find it on Zune Marketplace, lala and, undoubtedly, other online stores as well (though, sadly, not emusic).
Not being outside the States, we can't confirm this for sure but it appears that the digital single is not available in Europe. However, both NME and ChartSingles.net point towards a physical single release of "Welcome to England" in the UK on May 25th so it's not all one-sided.
Thanks to Ross, Rose, Armen and Matt for the tips.
Update: And while it's not on iTunes Australia just yet, it is on BigPond Music for all the Toriphiles down under. (Thanks George!)