News: Presstext Interview (May 9, 2009)
Posted by woj on
Saturday, May 09, 2009
|
Articles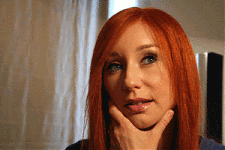 Martin Jan let us know that he got the opportunity to interview Tori for Presstext.Austria. The article is up on the site now where you can also find a couple new photographs of Tori taken by Julia Fuchs.
The interview is in German but Martin has kindly provided a rough English translation on his blog. In the article, they talk about illegal downloads, the return of official bootlegs, and, of course, the new record.
Many thanks to Martin for sharing this with everyone!