News: Sweeping Out the Savoy
Posted by woj on
Thursday, May 14, 2009
|
Touring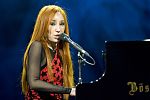 Interestingly, few, if any, reviews of the Acoustically Attracted to Sin concert at the Savoy have popped up in the British press. Perhaps this is related to the postponement? Maybe some of the bigger newspapers have yet to publish their reviews? Or maybe England just doesn't want her there anymore?
In any event, there have been some which we've added links to from the concert page in the tour section, including reviews by Little Blue World and Wears The Trousers contributor Alex Ramon, Kush for Pink is the New Blog and, of all sites, The Gossip Girls.
More than a few galleries of photographs taken at the show have surfaced as well: Gigwise and Drowned in Sound have some nice collections and several shots can be found at that review from the Gossip Girls as well. We've received several photographs taken by fans as well which have been posted.
Finally, it seems that all you have to do is play a one-off show in London to attract attention as both TMZ and Media Take Out took the opportunity offered by the new concert photos to offer the astute and scholarly commentary that only they could provide. Ah well, media attention is the goal, right?
Thanks to Lindsay, Stacy, Bob, Rebecca and Jennifer for helping out with this article.