News: Comic Book Tattoo: NOM NOM NOM
Posted by woj on
Thursday, May 14, 2009
|
Releases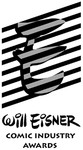 In the lull running up to this recent spate of album and tour news, we completely neglected to mention that Comic Book Tattoo was nominated in two categories for the 2009 Will Eisner Comic Industry Awards! This anthology from last year which, as you may recall, fused comics and Tori's music, has been recognized in the Best Anthology and Best Publication Design categories. We'll find out the results in July at Comic-Con — one year after that very same event launched Comic Book Tattoo into the world.
Additionally, we just got word that Comic Book Tattoo is on the "long list" for a British Fantasy Award in the Best Comic/Graphic Novel category.
So, sincere, if belated, congratulations to editor Rantz Hoseley, designer Tom Mueller, the rest of the anthology's creators, Tori, and Image Comics for these recognitions of a job well done! Our appendages are crossed for all three!