News: New European Date - Paris!
Posted by woj on
Thursday, May 14, 2009
|
Touring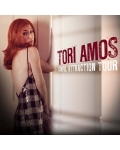 InfoConcert.com is reporting that Tori wll be playing the Palais des Congrès in Paris on October 3rd. Tickets are expected to go on sale on Tuesday, May 26th.
Note: Infoconcert seems to have funky cold redirect Medina happening so if you find yourself staring at an advertisement for Mika, try going directly to InfoConcert.com after clicking the above link and you should be able to search for the news article about the concert.
Thanks to Clément for catching this!