News: "Jackie's Strength" in "Sisters in Song" Compilation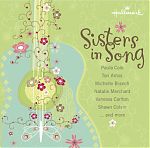 Get out your Lilith Fair t-shirts! Die-hard Tori collectors will want to know about "Sisters in Song," a compilation produced by Somerset Entertainment and Rhino Special Markets and sold exclusively by Hallmark (yes, the greeting card company) in its stores. The collection includes "Jackie's Strength" along with a boatload of other lady songstresses. The tracklist is as follows:
1) Lisa Loeb, "Fools Like Me"
2) Sarah Harmer, "Don't Get Your Back Up"
3) Shawn Colvin, "Matter of Minutes"
4) Kathleen Edwards, "Good Things"
5) Vanessa Carlton, "Ordinary Day"
6) Aya Peard, "This Mess"
7) Natalie Merchant, "Kind and Generous"
8) k.d. lang, "Helpless"
9) Tori Amos, "Jackie's Strength"
10) The Corrs, "Runaway"
11) Antigone Rising, "Don't Look Back"
12) Cherie, "I'm Ready"
13) Kasey Chambers, "Not Pretty Enough"
14) Jane Siberry, "Calling All Angels"
15) Toby Lightman, "Everyday"
"Sisters in Song" came out in June, but we didn't find out about it until an anonymous fan tipped us off in September. It then took Hallmark's peeps more than a month to dig up the tracklist and cover art for us.