News: This Is Your Midwinter Graces Bonus
Posted by Violet on
Monday, October 05, 2009
|
Releases
We have a bit more news about Tori's upcoming Midwinter Graces holiday album.
First, two additional photos (click to see larger versions).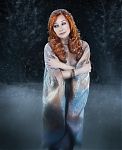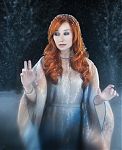 And here's the tracklist for the Deluxe edition CD, with two additional songs:
1. What Child, Nowell
2. Star of Wonder
3. A Silent Night With You
4. Candle: Conventry Carol
5. Holly, Ivy and Rose
6. Harps of Gold
7. Snow Angel
8. Jeanette, Isabella
9. Pink And Glitter
10. Emmanuel
11. Winter's Carol
12. Our New Year
13. Comfort And Joy
14. Stille Nacht! Heilige Nacht! (Silent Night! Holy Night!)
Still no word on what the DVD will contain.