News: Through The Flint Glass: Brian Nash
Posted by Violet on
Tuesday, February 13, 2007
|
Toriphiles
Today we focus our lens on talented performer and ardent Toriphile Brian Nash. Back in October, Tori fans who made their way to a cabaret club in NYC were treated to Brian's performance of Tori's Boys For Pele album in its entirety. We wanted to find out more about this intriguing guy, so we hunted him down….
---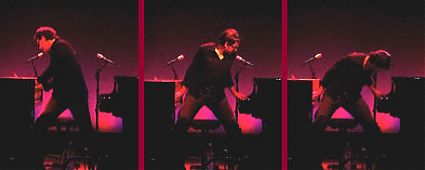 This boy's all for Pele
By Beth Winegarner
Undented Managing Editor
NEW YORK CITY, N.Y. — Illinois native, musician and theater performer Brian Nash recently did something no-one — not even Tori Amos — has done: performed the Boys for Pele album onstage in its entirety.
In two sold-out October shows at the Duplex, a cabaret-style theater in New York City's West Village, Nash took his fans, and Tori's fans, on a wild trip from "Horses" to "Twinkle." The performances were only the most recent in Nash's life, which has been filled with music, acting, and stage production.
Nash spent his first dozen years in Chicago, Bloomingdale, and Barrington, Ill. By age six he had taken up singing pop songs and recording them at makeshift shopping-mall studios, and by eight he began studying theater. He joined the Barrington Children's Choir, and then at 12 was accepted into the American Boychoir, based in Princeton, N.J. He moved to New Jersey, living with fellow students and performing in places such as Taiwan, Czechoslovakia, Poland, Lincoln Center, and Carnegie Hall.
His academic record is impressive: classical voice training from Interlochen Arts Academy in northern Michigan, opera training from Boston Conservatory, music-production training from the Berklee College of Music. In the meantime, Nash continued to act in theater productions and played with a rock band in Boston clubs.
Nash moved to New York in 2002, where he is getting ready to unveil a production of Silence! The Musical — based on The Silence of the Lambs. He plays three nights a week at the Duplex, is in negotiations to produce his first Broadway show, and is producing an EP with singer Shanna Sharp, Calling Amsterdam, due out Feb. 14.
Undented recently caught up with Nash to ask him about his roots, how he discovered Tori, and what inspired him to do the Pele shows.
Undented: How did you get into theater?
Brian Nash: Theater was always one of my first loves, and I keep finding myself going back to it. Even while studying opera or playing in rock bands, I kept ending up working in or on musicals. When I was 16, I conducted my first show, a production of Jesus Christ Superstar that I also directed, and that opened up a whole new world to me. By that summer, I was orchestrating and music directing a huge benefit concert, even though I'd only really been playing piano for a year.
Undented: What are some of the shows you've been in or produced?
Brian Nash: Throughout high school and college, I'd occasionally perform in or more often music direct shows, and was getting a lot of work as an actor in Boston. Once I moved to New York, I realized that I didn't want to be one of 200,000 struggling actors in this city, so I concentrated on getting work as a musical director. In the winter of 2005, I heard some clips online of a mock musical parody of Silence of the Lambs, entitled simply, SILENCE! The Musical. The material was hilarious, and I played it for my friend John, who agreed to sign on to help produce if I went forward with it. Six months later, John, my friend Mark, and I had formed a company to produce the show, hired a book writer and director, got a slot at the largest theater in the New York International Fringe Festival, assembled a brilliant cast, had 3 new songs written, and sold out every seat before the first performance had even happened. After the Fringe run, we started work on transferring the show off-Broadway, where it will open in early 2007.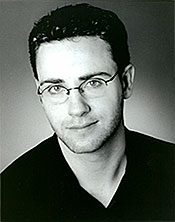 Brian Nash
Undented: When and how did you first discover Tori Amos? Were you an instant fan, or did it take some time to warm up to her music?
Brian Nash: The first time I heard Tori's music, Tori wasn't playing it.
I was a sophomore in high school, and I was up at Interlochen. In order to keep us from going crazy up in the snowy woods, once a month they would sponsor a "coffeehouse," a kind of open-mic in which students could perform anything they wanted. Casey Stratton, future Sony and indie recording artist, was a senior voice major there, and he sat down at the piano and performed "Silent All These Years."
This was in late '93, and none of us had really heard Tori's music. Suddenly, the entire campus was obsessed. I remember the day that Under the Pink came out — the houseparents were shuttling people to the mall to pick it up. I'd finally gotten Little Earthquakes, and was playing it on repeat … and then I decided I wanted to play the piano. I sat down with the sheet music to "Winter" and started to work it out. I'd alternate between playing Tori and theater music as I taught myself how this instrument worked. I picked it up really quickly, and I couldn't believe the connection I felt with the piano. Because I was principally playing Tori as I was learning, a lot of her idiosyncratic touches can still be heard in my playing: certain bass lines, appoggiaturas on descending right hand passages, all of that can be heard subtly in almost everything I play even now.
My first Tori concert was in Evanston, IL, during the Under the Pink tour. I was 15, and loved every second of it. I went to a few shows on the Dew Drop Inn tour, but really started going to shows on the Plugged Tour. I ended up organizing the Boston ticketing for the Sneak Preview show, and then I was beyond hooked. I did most of the 5/12 Weeks tour, the East Coast of the Strange Little Tour, and countless shows and tapings since. As a musician, I find it so inspiring to watch Tori work. She's why I started playing, and I find that it's good to get back to the root of why I do what I do.
Undented: You recently performed Tori Amos' Boys for Pele in its entirety. Where did you get the idea to do this?
Brian Nash: The idea to perform Pele had its start one late night in a bar I was playing. Someone requested "Baker Baker," and I laughed as I'd already played "Pretty Good Year" and "Cornflake Girl" that night. I did the request, then jokingly went into the first few bars of "The Wrong Band," saying that we should just do the whole album. A few people shrieked with happiness (I tend to get die-hard Tori fans late at night). That kicked off an idea, in which once a month on a Wednesday, we'd perform a full album. We started off doing Alanis' Jagged Little Pill, then on to things like Fleetwood Mac, the soundtrack to Little Shop, and Kelly Clarkson's Breakaway.
I loved doing it, and had fun working on the projects with my Wednesday night co-workers, but the scheduling was getting really hard, and the non-regulars who wandered in were kinda confused when we wouldn't do anything but Kelly Clarkson for an hour. We shelved the idea, but the initial reason I'd wanted to do it kept coming back to me.
I decided that I should do one of Tori's records solo. I'd always wanted to do a full-on Tori show, but knew that in the club, the random tourists who wandered in might be a little afraid, so doing it in the cabaret theater at the Duplex would be a better idea. In choosing an album, Pele leaped to the forefront really quickly. I've always seen Pele as the record that divided casual Tori fans from the hard-core fans, ones that would take the leap into the darker poetry she was composing.
Little Earthquakes was not an option for me, as I refused to consider performing "Me and a Gun." I would find it disrespectful to Tori's experience to try to take on that song. Pele, as it was written as a "sonic novel," seemed the best candidate for a full performance. I was hoping the narrative Tori wrote would translate, even if she'd never performed it as a single piece herself. Plus, harpsichords are fuckin' fun. It was never my thought to "do" Tori or pretend that I could even approach what she achieves live. The show was more rooted in wanting to do a tribute to a composer and an album that had a profound influence on my musical development.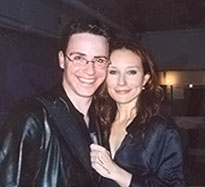 With Tori at Wang Center, 2001
Undented: How did you develop the stage show that went with it?
Brian Nash: In working with the look of the show, it was really about stripping the album down to the essences of it. I wasn't gonna try to recreate Tori's stage show, or even Tori's live versions of the songs. I wanted it to be about these songs and this story, told through these two instruments, so it was just the piano and harpsichord onstage with the piano bench between them. I gave our brilliant sound and lighting guy, Thomas Honeck, the lyrics and we talked through how each song should be lit, and he came up with a stunning lighting backdrop for the songs.
Undented: How did you get permission to perform the work live?
Brian Nash: The rights to perform the songs were covered by the club's ASCAP/BMI license. Each performance room pays a certain amount annually to these organizations, which is then distributed to composers based on an estimate of the number of times a composition of theirs was performed each year. This is the same principle which allowed Tori to perform the "Tori's Piano Bar" covers. She only had to pay additional money to the composers when the songs were released on the official bootlegs.
Undented: The first show sold out — were you surprised?
Brian Nash: I was floored when the first show sold out. I wasn't sure how Tori fans who didn't know my work would react, nor did I know how my fans who don't necessarily know Tori's work would react.
Undented: How was the audience's reaction to the show?
Brian Nash: The two shows were very different in the audience's composition and nature. The first show felt almost like performance art, like the audience didn't want to disturb the wholeness of the work. It was dead silent in the room until "Springtime of His Voodoo," when I broke out of the "perform it just as Tori did" feeling and started playing around more.
The second show had clearly the more vocal, and probably the more vociferous Tori fans. As an in joke, I had "Son of a Preacher Man" playing as the lights went down, and those who got it lost their minds. The late show, as is often the case, was downright rowdy. People were singing along, clapping in time, and cheering with every additional bridge of "Father Lucifer " (during the second show, I ended up doing "only glass," "every day's my wedding day," the "hiding in a hot dog" background vocal track from the record," and a "Steve McQueen" bridge).
Undented: How did fans react, in general?
Brian Nash: Everyone with whom I spoke after the show really enjoyed it, even those who really didn't know Tori's work. Apparently, some video clips surfaced on YouTube and on one of the message boards after the show, and people were hotly debating them (i.e. I was either a genius or needed to be burned at the stake for defiling Tori's material). I managed to avoid looking at that, as I really didn't need to know what was being said. I knew those who would be predisposed to like it would love it, and those who didn't want to hear anyone but Tori do her stuff shouldn't come.
Undented: Has Tori seen or heard any of your performances?
Brian Nash: Tori and I have talked about my playing and my musical background, but she's never heard me play live. Whenever I've been working on an album or a major project around the time of a tour, I try to get her a copy of whatever it is I'm working on. I'm not sure if she gets to listen to any of it, but she's shared so much of her music with us, I want to at least give her the chance to hear how much she's influenced me.
Undented: Do you have any thoughts about what it's like, as a man, to perform Tori's music, which is often very woman-centric?
Brian Nash: Honestly, so much of the poetry is so abstract, I think of only a very few songs as specifically "women's" songs. In so many, Tori is taking on a character, and I fell I can enter into a different version of that space. That said, as a gay man, there are certain similarities in the relationships with men that I can draw on when performing this material that perhaps a straight man wouldn't be able to access. It's hard to say. Besides the text, there's also a vocal challenge, as I don't like to transpose Tori's songs into an easier key for the male voice. It sounds and feels wrong to play things in any other key, so I have to navigate very carefully — taking some things up the octave, so they don't get too low in my voice, etc. But all this goes towards the challenge of entering into the mood and the story of the songs.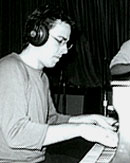 Hard at work
Undented: Are you thinking about doing any other Tori shows in the future? If so, which albums or material would you like to work with?
Brian Nash: There have been a lot of requests, some for Tori records, some for other artists. The one that's come up most frequently is Choirgirl, and I've thought about putting a band together to do it. Scarlet's Walk, being another narrative piece, is kinda Pele's cousin, so there's a thought. I was also considering doing an evening of B-sides, though of course it would be a bitch to choose only 12 to 15. A few people voted for a Ben Folds record, especially as the week before Pele I played a benefit concert of Ben's music with a stack of Broadway performers.
Who knows if I'll put together another show like this. I just feel lucky enough that I got to play this music for an audience that understood my connection to it. It brought me back to a place when I first discovered that album, and made me remember what a special place Tori's music holds in my life.
---
To learn more about Brian Nash, visit his Web sites at brianjnash.com, B Major Theatricals and SILENCE! the Musical.