News: The Posse ... Revealed!
The April 2, 2007 of US Weekly has a piece revealing the five characters that Tori developed for American Doll Posse. They are named Santa, Clyde, Isabelle, Tori, and Pip. In the brief accompanying article, Tori talks a little about how the five women's stories factor into the album as a whole. (You know the routine by now: click on the thumbnail for a larger image.)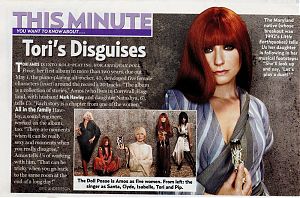 The text reads:
THIS MINUTE
YOU WANT TO KNOW ABOUT...
TORI'S DISGUISES
Tori Amos is into role-playing. For American Doll Posse, her first album in more than to two years, due on May 1, the piano-playing alt-rocker, 43, developed five female characters (insert) around the record's 20 tracks. "The album is a collection of stories," Amos (who lives in Cornwall, England, with husband Mark Hawley and daughter Natashya, 6), tells Us. "Each story is a chapter from one of the women."
ALL IN THE FAMILY – Hawley, a sound engineer, worked on the album too. "There are moments when it can be really sexy and moments when you really disagree," Amos tells Us of working with him. "That can be tricky when you go back to the same room ant the end of a long day!"
Thanks to Beebles for the scan and to WinterWitch and Fabz for stirring me from my workday torpor and getting my attention back to the work that matters!