News: Posse Roll Call: Clyde
Posted by woj on
Friday, April 06, 2007
|
Releases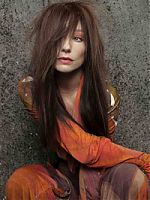 ToriAmos.com sent out a newsletter this afternoon which kicks off the first of several newsletters which will present the five women in the Doll Posse.
Today's mailing introduced the Clyde persona. EverythingTori also posted a new entry with the same information. Both include links to stream a song of Clyde's, "Bouncing Off Clouds", in a variety of audio formats (Realaudio, Quicktime, and Windows media for dial-up and broadband). They also confirmed the location of Clyde's blog and provides a short description of the character drawn from the album's promo kit (which, if it wasn't already obvious, was where the Starpulse article got its material):
Clyde, who draws from Persephone, wears her emotional wounds on her sleeve, but remains idealistic. She is looking at the effects of not being a whole person. She is trying to figure out what she believes in and she is dealing with having been disappointed in her life.
A new member of the Posse will be introduced each week — though whether or a not a new song is made available is not yet known.