News: "Borders Exclusive" Track: "Drive All Night"
Posted by Violet on
Saturday, April 28, 2007
|
Releases
A special bonus track called "Drive All Night" will be available as a "Borders Exclusive" download.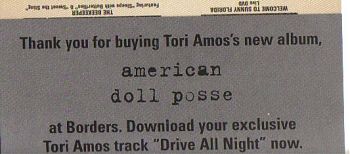 We don't know if this song will ever turn up anywhere else or not. We also don't know if this is only available in-store or if you get to download the track if you've purchased from Borders online (we would imagine so).
Update: As if things weren't already confusing enough with all the different editions, a Borders employee tells us this track will ONLY be offered when you purchase the "Borders Exclusive" standard (meaning CD-only) edition of ADP, not the special edition CD/DVD combo set. The sale price of the Borders Exclusive edition will be $15.99 in the U.S.
Thanks, Randy.