News: Tori On Carole King
Posted by woj on
Tuesday, May 22, 2007
|
Cherries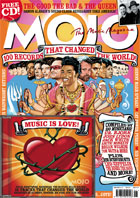 As mentioned in the last article, the June 2007 issue of Mojo features the "100 Records That Changed The World", as chosen by the magazine's favo[u]rite musicians. Tori got to expound on #74: Carole King's Tapestry:
"I remember the babysitter bringing this record with her one night. I was four or five at the time and I was entranced by it. Over the next couple of weeks it was my goal to play every single song. I was in trouble because I was supposed to be playing Mozart. Carole King is one of the greatest songwriters ever. Her songs are like stories or sonic movies, you want to walk into them. With "I Feel The Earth Move" or "It's Too Late", you're right there. Some people have emotions they talk about, with Carole King, you sense how she really feels."
Thanks, yet again, to Anni for sending this in!