News: This Is London Concert Review (July 3, 2007)
This Is London gave Tori's first concert at the Hammersmith Apollo a glowing review which they published on their website. Thanks to Amanda, Marci, Richard Handal and Matt E for sending in the link!
---
Many faces of Tori mark return to past glory
Lisa Verrico, London Lite 04.07.07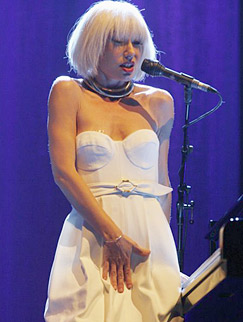 She had the spell-binding presence of Tori Amos, but the lady who strode on stage like a cross between a catwalk model and a high-class call girl had little else in common with the hippy chick singer whose kookiness rivals Kate Bush.
Wearing a blonde, bobbed wig and strapless cocktail dress, she turned her back on the crowd, provocatively shrugged one shoulder after another as if about to perform a striptease, then wiggled her posterior.
Had it not been her name up in lights outside, not even her fans of 15 years could have guessed who they were watching. Indeed, were it not for the grand piano centre stage, PJ Harvey would have been a more reasonable guess.
A scruffily-attired, three-piece male band were tearing in to the sort of fuzzy, funk-laced blues-rock Harvey has always excelled at, while a striking light show seemed more suited to Muse.
As soon as she began pounding the piano from a standing position, however, there were few women in the world who could have been under that wig. When she sang, the possibilities shrunk to one. It was Amos to be sure, but not as we've ever known her.
For the latter half of her career to date, it looked like marriage, motherhood and sliding album sales had sapped the fun, feistiness and feminist angst from the North Carolina-born preacher's daughter.
Her Noughties output hadn't been a patch on her huge Nineties hits and on an insipid last tour, she dispensed with a band and stuck largely to a collection of ballads.
This year though, Amos's ninth studio album, American Doll Posse, not only marked a return to form, but boasted a concept so silly only an artist with a brain truly verging on the insane could have hoped to pull it off. For the sprawling set of songs, Amos adopted various personas inspired by Greek mythology – she didn't just sing from their perspectives, she dressed up as them on her album sleeve and even penned blogs in their names.
How many of them she channelled in her two-hour concert wasn't clear. She returned, after a blazing, band and beats-accompanied disco remix of Professional Widow, in a red, waist-length wig and a one-armed, sparkly gold cat-suit, merging several personas in the process – but the old Tori was rarely in attendance.
Her debut hit, Crucify, shed its self-loathing with a snappier pace, frantic percussion and the addition of electro effects, not to mention suggestive writhing from the singer as she simultaneously played piano and organ.
And Cornflake Girl was a stunning highlight that showcased the strength of Amos's distinctive, versatile vocals.
Not even Elton John could make piano playing as rock-n'roll. She may hardly bother the charts these days, but live, Amos is on fire.