News: Catching Up With A Comic Book Tattoo Part Deux
Posted by woj on
Monday, June 23, 2008
|
Cherries
Since we last mentioned Comic Book Tattoo, there have been some developments on that front.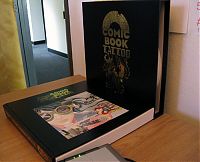 First, editor Rantz Hoseley has uploaded several photographs of the printer's dummy for the limited edition hardcover and slipcase to Flickr. We have to say that it's looking pretty sharp!
Second, this past weekend, Image Comics was in attendance at HeroesCon, where Comic Book Tattoo was the subject of one of the three panels dealing with the imprint. We haven't located any news from this panel yet, but Comic Book Resources has reported on the general Image Comics panel held later that afternoon.
Finally, after weeks of being unavailable, Amazon.com is finally taking pre-orders for the regular hardcover edition of the anthology. However, they are no longer taking pre-orders for the limited edition so it appears they may have finally run out of their allotment of the limited edition. Note that several people have written us to confirm that the price they pre-ordered the limited edition from Amazon at is still listed in their order history. Additionally, Amazon's pre-order price guarantee means that those who got in on the pre-ordering when the price was good got quite a deal!
Thanks to Kirkland, Tony, Arfquake, and rusty for the tips!