News: Through The Flint Glass: The Apollon Musagete Quartett, post-tour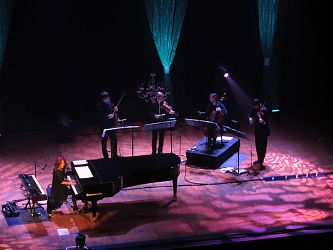 Tori Amos surprised everyone by announced that she would record and tour Night of Hunters with the Apollon Musagète Quartett, a foursome of young Polish musicians who have iconoclastic reputations within the classical-music scene. But hearing Tori perform live with the quartet, whom she came to call the "Fab Four," it suddenly made complete sense, from the more obvious string-backed pieces from Tori's ouvre, such as "Girl Disappearing" or "Cloud on My Tongue" to the thrilling re-framing of songs such as "Suede" and "Precious Things."
We know many of you are going through severe Night of Hunters tour withdrawals (and may be thumbing through the yellow pages for treatment as we speak!). Apollon Musagète Quartett's first violinist, Pawel Zalejski, generously agreed to talk with us again at the end of the tour to share his thoughts on traveling the world with everyone's favorite red-haired pianist — and meeting her notorious fans. (For our pre-tour interview, go here.) Here's what he had to say.
---
How did this tour compare to the tours you've done as a quartet?
It was definitely a "rocking" experience! A bit of a classical (in a good way) performance and a bit of a pop/entertainment show, too.
Of all the songs you developed and rehearsed with Tori, which of the "Night of Hunters" songs worked best live, do you think? Which songs from her back catalog worked best?
The opening solo "Intro" for quartet and "Shattering Sea" were always very successful together, which was a good warm-up for us and gave a strong beginning to the show. "Star Whisperer" with its passionate instrumental parts gave the most impact, because of its length and intensity; mind-blowing, percussive "Cruel," and "whiskey-like" "Big Wheel" rounded out the show, giving a "final blast." We also had a lot of fun presenting our own piece, "A Multitude of Shades." And we also appreciated, on the other side, quiet, beautiful songs like "Carry" or "Winter."
Were there any songs you would have wanted to play more often than you did?
I think it is a pity that some very good songs/arrangements that we prepared at the very end of the U.S. tour were played so few times (because we were at the end of the tour); "Smokey Joe" is definitely an example.
What was the audience's reaction to the quartet onstage?
We have gotten a lot of attention and tons of spontaneous, warm, positive comments: live, via our web site, or via Facebook. The "live" reaction of the public was especially passionate during performances of our song "A Multitude of Shades" at shows.
I think, generally, the fans appreciated very much what we did — how the string quartet melted into Tori's sound, supported the ideas of her music, and gave new dimension not only to Night of Hunters songs but also to the songs from her back catalog. Many were surprised at how different, but natural, it felt to listen to Tori with the Apollon Musagète Quartett.
Great thanks to the great John Philip Shenale for creating the arrangements that made us sound like that!
Did you get to meet many fans backstage? What did they say?
Occasionally we met some fans backstage, but the most I met were on the stage, after the concert, after giving away the setlists :-)
While Tori was doing interviews and TV/radio appearances, what did you guys do to pass the time?
We were also very busy: preparing new pieces, taking care of our (old, historic) instruments and preparing for the concert, practicing and completing our soundcheck, so that when it came time for the rehearsal with Tori, everything was ready and we could focus only on making music with her.
Do you have any favorite stories or memories from the road – either onstage or off?
The whole tour was full of interesting and amazing stories – and it was a story in itself to play with Tori onstage almost every day, and to ride on the tour-bus with her. Words can't describe the feelings we have had and share together.
What did you learn about performing from Tori while touring with her? What do you think she learned from you?
I think every musician performing with Tori can learn from her how to make a live show very special, and also how every single person in the audience is an important part of the show, the music, and the art – and learn to care for them and to perform for them.
Also, I would like to say thanks to the whole tour-team: Without the whole amazing crew, and tour managers Mindi and Glenn, we would never have made it. We had the privilege of working with the best professionals, who passionately love the music the way we do, who took care of us and created, "from the backstage," the show that the audience admired so much.
Is the Carnegie Hall show in New York at the end of 2012 going to be part of a larger US/Canada tour?
We are going to perform a few shows in the United States, in New York and Washington D.C., and then we tour Japan.
Are there any plans to work with Tori again?
I think everybody involved is hoping for that.
Note: Photos are from Tori and the Apollon Musagete Quartett performing at the Orpheum Theatre in Los Angeles Dec. 17, 2011, by Flickr user Malingering — click through to see other live-gig photos from this Toriphile.