News: Through The Flint Glass: The Apollon Musagete Quartett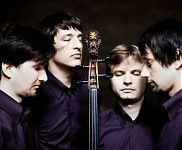 The Apollon Musagète Quartett, the award-winning collective of young musicians from Poland, trained in Vienna and wowed the world with its ability to make well-known classical works fresh and new, for its support of lesser-known Polish composers, for playing pieces for string quartet with orchestra, and for composing its own modern classical works — something a quartet has never done before. In the five short years since its birth, the Apollon Musagète Quartett has not only shaken the classical world, but earned the attention of Tori Amos, who recorded Night of Hunters with the group and is bringing them with her on a world tour in support of the new album, due out September 20 in the United States and September 26 in the UK.
This is the first time Tori has brought string musicians on tour with her, and it's the first time the Apollon Musagète Quartett has toured with a pop musician. Together they will perform works from Night of Hunters as well as songs from Tori's catalogue, freshly re-arranged by John Philip Shenale. The quartet is also developing a brand-new piece, inspired by Tori, that it will perform.
We recently traded emails with Apollon Musagète Quartett violinist Pawel Zalejski, who shared stories about recording with Tori, walking the Cornish seaside, and the prospect of meetings Tori's world-famous fans. (Pawel is second from the left in the above photo. Since English isn't his first language, he kindly gave us permission to "smooth out" some of his responses.) Click through to see our Q&A with Pawel.

---
How did you wind up working with Tori Amos? Did she approach you guys to work on the album?
I think she had an idea for a very new concept of the CD, and was looking for musicians who had proven skills for interpreting classical music and the flexibility to adjust those skills and knowledge for the demands of so-called pop music. Deutsche Grammophon, that legendary and most prestigious classical label, suggested that we would be the best for that type of project. I think that, at some point, somehow, she was looking exactly for us.
Did you help write and arrange the music you recorded for "Night of Hunters?"
Not exactly, but during the preparation and recording sessions, of course, we worked on the material, adding, like always we do, our individual mark.
What was it like working with Tori on the album?
Simply great. She is, or has, such an inspiring music personality. She is an excellent chamber and classical musician, and treated us with a lot of respect, being true and passionate about music and always very professional and extremely demanding from herself.
Do you have any special stories from the recording process — anything funny or memorable — that you can share?
I recall Tori's very special famous green tea! At times, I thought it was the "cactus practice," which she was bringing us at the "right time." The way she kept us in the highest possible state of mind with different verbal and non-verbal methods, and how she would tell us about the story we were "singing" with her with our instruments, was memorable.
Your quartet's name references the Greek God Apollo. How interested are you guys in mythology, and did you and Tori talk mythology at any point?
Apollo, the son of Zeus, the patron of Delphi, and the leader of the Muses/Arts (Apollon Musagètes) and director of their choir, united them in dance and functioned as the patron for all arts together. The three most important Apollon Muses are: Calliope, the muse of poetry; Polyhymnia, the muse of rhetoric and philosophy; and Terpsichore, the muse of dance.
We believe that the music is the connection between all arts, and we believe that all arts are actually one. We trust that to make music we have to understand and to "dance" with all the muses at the same time.
Tori never spoke directly about mythology with us, but it is obvious that she knows it very well, and I think that was also a reason why she picked us — and maybe that's why we "tuned" so well together, because of our "Apollonic" way of seeing things, in the arts and the world.
Was this your first time working on music with a "pop" element to it? How was it different from your usual work?
We have done several different smaller projects, but never on such a scale as this one with Tori. I would say, here we have played a slightly different role than normal, where as a quartet we would make decisions about all aspects and parameters of the classical music string quartet piece. In a way, this project is a little bit like playing a piano quintet (string quartet and piano) with a singer, which we have done several times. In this case, our role was a bit more to find a way to creatively support Tori´s ideas, putting the right background and colors to the "picture," giving the right perspective to her music and the story she is telling, and adding an important classical element to the pop character of the whole project.
What's Tori's studio in Cornwall like? Have you ever been to that part of England before? Did you get to explore the area at all? What did you see while you were there?
It was our first time in Cornwall, and we liked it very much. After sessions we would enjoy walking at the shore and on the cliffs in sudden fog or strong wind. We have also enjoyed local beer, great pubs and billiard-pool tournaments.
The studio has excellent equipment, and is functional and cosy, located in a barn, but carefully made to meet any demands or needs. When you go out of it, you immediately get the farm countryside feeling, looking at the fields and cloudy sky and smelling the sea in the blowing wind from the west.
Did you learn anything new or interesting musically while working with Tori?
I think we have learned that talking about music, using different language than we normally do when we work on pieces by Beethoven or Mendelssohn, can be a great enrichment to the communication process. In fact, it makes the real musical, emotional message — or, let's say, "the story," — even more intensive and clear for the audience. It is also nice to discover and to prove again how close together classical and popular music are. In that project, we tried actually to melt those borders so you wouldn't know or notice if it is classical or pop — simply, it is and always has been one!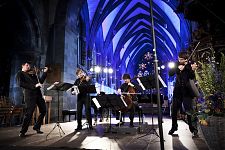 What are you doing to get ready to tour with Tori?
We are actually very busy at the moment doing our quartet projects for almost the whole summer. We are meeting Tori for one week in September to work on the tour program. We are also in close contact with the great J. P. Shenale, exchanging ideas and, like we say, "breaking the borders" — trying new things. He has made beautiful new arrangements of older songs for the tour.
Meanwhile, we are also writing a string quartet piece especially for the tour, which will be inspired by Tori´s music. It's called "A Multitude Of Shades." [note: the first letters spell "AMOS."] This is the second piece written by all four of us, and will be officially published by prestigious the classical publisher Doblinger Verlag in Vienna.
Tori's fans are unusually passionate and dedicated. Are you looking forward to interacting with them on the tour?
I think Tori Amos fans are almost as famous as Tori, and known worldwide for their dedication and commitment. And indeed, fans are the biggest reward for our work. We, as a classical string quartet, are amazed that we already have a fan-base of classical fans we meet at different concerts all around the world. We are, of course, more than happy to encounter Tori´s fans as well, so please feel free to say if you like what we do with "your" Tori. :-) It's for the fans, especially, that we are writing our piece for the string quartet that will be performed during the tour.
What made you guys want to learn to play music — both individually and as a group?
Mostly the need to express ourselves and passion for the music. For us, the string quartet is the way to make our passions and dreams come true. The string quartet is, for us, a life-philosophy and the "medium" to communicate on a larger scale.
How did the members of Apollon Musagète get together and start working as a quartet?
We met having had different experiences in different genres and fields of classical music in Vienna, which is the "Mecca" for classical musicians, and the place we learned the secrets of the "Vienna Classic" and modern Second Viennese School. We worked very hard for two years to turn ourselves into a "band," and then we won the 57th ARD Competition in München. [They took first place, and a special prize, in the "String Quartet" category.] It was actually only the 5th time the first prize in that category was given. That prize is like a "highest quality" mark in the classical business.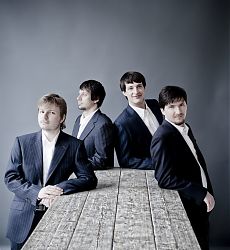 In the four years you've been together, the Apollon Musagète Quartet has gotten a lot of attention. What do you think you're doing that's working so well?
In a way, we are a little bit like the Tori Amos of the classical scene. You cannot compare the Apollon Musagète Quartett to any other string quartet or ensemble. Our profile, the music we make, and our performances are unique. So is our approach to the music. We are not just string players. We believe, to be a good chamber musicians, we have to be like renaissance men.
We see the Apollon Musagète Quartett as a musical institution. We also have our festival in the medieval town of Goslar in Germany, and we write music together (which has never been done before in classical music). We commission pieces by young composers, and try to do a lot of research to create an unknown or contemporary repertoire instead of sticking with the "easy winners" of the mainstream. We do only the projects we absolutely believe in, and we give everything and more on the stage. The social side of our activities is also very important for us: we run some teaching programs and support scholarship programs for young quartets.
What's your approach to playing classical music? How do you make it modern and relevant, and why is it important to do so?
We believe that classical music is always relevant, emotional and fresh when it is performed so that it transmits the true message and expression of the music in the way it was meant, lived and written by the composer. It is not so important that those composers lived years or ages ago. The music we have, which they have left us, is so rich intellectually and emotionally that is always "on time." Particularly in this project created between AMQ and Tori Amos, you can find a lot of inspiration in classical music and experience the depth, richness and beauty of it.
Your web site says you guys have strong personalities. Are you known as the "bad boys" of the classical circuit?
If you listen to the authorities in the string-quartet business, we are doing things that a quartet, according to so-called "tradition," should only be doing after 40 years playing together. Some may call it "bad." We call it "creative." At the same time, I don't think anybody thinks about us as "bad boys." because we have proven ourselves at the most important competitions and concert halls, and have earned the label of serious-thinking, highly professional, "homogenic," non-commercial string quartet musicians who are fully devoted to music and art.