News: Someone Saved Berlin Tonight
Posted by Violet on
Tuesday, May 20, 2014
|
Touring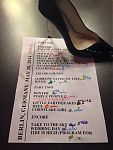 It was a night of several amazing firsts in Berlin. Tori gave a great performance, covering Elton John's "Someone Saved My Life Tonight" (first time this tour), Joni Mitchell's "River," and Blondie's "The Tide Is High" (a first-time-ever-in-Toriphile-history treat!). Other surprises included the ever-crowd-pleasing "Purple People," the public debuts of "Wedding Day" and the 2nd part of "Unrepentent Geraldines," and the tour debut of "Space Dog." WOW, WOW, WOW!
As always, if you attended this or any other show, you can submit a review on the show's flashback page in the Tour section. And for those of you who aren't aware, the "flashback" pages are archived versions of ALL the shows, containing setlists, reviews, videos, and photos. Videos are added as quickly as we can manage after they turn up; photos are added as you guys submit them for inclusion on the pages — we can't track your photos down without your help! Info on how to submit videos and pics is included at the bottom of each flashback page.
Deepest thanks to @Gray_90 for sending us the setlist live via Twitter.