News: April 30th Review Round-Up
Posted by woj on
Monday, April 30, 2007
|
Reviews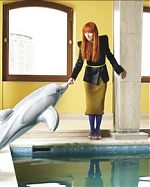 Popmatters has posted Matt Mazur's lengthy and positive review (8 out of 10) of American Doll Posse and The New Yorker's May 7th issue includes a two-pronged piece which analyzes the latest albums by Tori and Björk as well as their careers in the context of these records. It also features this lovely photgraph of Tori by Jillian Edelstein. Reviews from The Associated Press, The Philadelphia Inquirer, and The New York Times have also surfaced. (Thanks to Jack, Melissae and Benjamin for sending these in!)
---
Tori Wigs Out
Tori Amos
American Doll Posse
(Epic)
US release date: 1 May 2007
UK release date: 30 April 2007
by Matt Mazur
For the occasion of the release of her ninth studio album (her third with new label Epic), singer-songwriter-turned-towering-concept princess Tori Amos has birthed five personas—the titular "dolls" of American Doll Posse: "Pip", "Santa", "Isabel", "Clyde", and "Tori". Each girl has her own specific wardrobe (Unconditional and La Petite Salope will be among the ladies' couturiers), hair and make-up and her own catalogue of songs on the record. The character of "Tori" even dons a red wig.
The ladies have a lot on their minds, but mainly, American Doll Posse is a record that wants to know why we are at war, and what we are going to do to clean up our mess. Amos has always questioned the patriarchal authority, but this time she actually begins a record with a song called "Yo, George"; a finger-pointing 90-second interlude obviously directed at our commander-in-chief that asks if we are living in the age of "the madness of King George". From there, she really lets it rip.
Humanistic politics are engrained in many of the songs: "Almost Rosey" is a clear war-time anthem, with vaguely activist lyrics like "when I hear of one more bomb/ we have all been robbed of song/ and nightingales who throw their arms up/ when is enough enough?", but there is also a lot of "classic Tori" present: gorgeous string quartet arrangements courtesy of John Phillip Shenale (on the Leonard Cohen-esque "Girl Disappearing"); a touch of humor (on the raucous stomper of a single "Big Wheel", where Tori actually refers to herself as a "MILF"); and a smattering of keyboard instruments (Bosendorfer, electric piano, Clavichord, Wurlitzer, Meletron) all played by Amos, often simultaneously. While the tempo is more brisk than previous Amos slow-burners, the big surprise here comes from the shocking use of guitar—both electric and acoustic.
"Body and Soul", a schizophrenic, frenetic "duet" between Pip and Santa, is a muscular track that stands among Amos' career-best attempt at a full-out proper rock and roll song. The "girl and her piano" myths about Amos should be put to rest once and for all: the woman is fully capable of letting her keys fall by the wayside and let a monster guitar riff take center stage. Then there is the full-tilt, sex-drenched swagger of "Teenage Hustling", a track that begins innocently enough on the piano and then builds to a sonic assault on the corporate lackeys who have ever doubted Amos; she has, after all, been "in the business" since she was 14. Any music executive who wants to get between Amos and her music in the future might want first give this song a listen for a taste of what a pissed-off "girl with a piano" is gifted enough to pull off. These particular tracks re-invigorate Amos' catalogue with their inventive, sometimes shocking use of guitars and effects.
Credited to "Mac Aladdin" (it is rumored that this is a pseudonym for Amos' husband and sound engineer Mark Hawley), the guitar work on Posse sometimes verges dangerously into 1980s hair metal territory (sort of like Tori's debut band Y Kant Tori Read, as a matter of fact). There are little blues riffs that are harmless cheese, as if Tori was trying to capture an "edgy" sound, but couldn't quite get there (most notably on the track "You Can Bring Your Dog", which is still superior to most pop guitar jams currently being produced). Most of the time, though, the guitar work (which dominates Tori's piano at times), is a nice nod to the great rock and roll bands of the 1970s: The Stooges, Pink Floyd, Zeppelin, the Beatles, and Queen ("Digital Ghost" boasts a gloriously guitar-zapped bridge that is as close to arena rock as Tori has ever gotten). There is an air of opera-rock all throughout.
If it sounds like Tori has become the ultimate drag queen version of herself, that is because it is partly true: musically, this record's closest kin would have to be the soundtrack for John Cameron Mitchell's expert musical Hedwig and the Angry Inch. There is a cabaret element on Tori's record, as well as a cheeky sense of humor (there is a thirty second interlude called "Fat Slut"—if you don't believe me), that permeates and lifts spirits. Short, playful tunes like "Velvet Revolution" even ape Eastern European flair with gypsy-jazz-esque mandolins jangling in the distance, while "Secret Spell" sounds like a life lesson from a woman who has seen it all.
The video for "Big Wheel", which introduces the Posse characters, plays out in hysterically wry fashion: each woman vamps and shakes while winking at the camera. It is a very natural progression for the singer, who is always keen on discussing her love of musicals (from The Sound of Music to Mary Poppins). While at first glance it is shockingly theatrical for someone who is mainly known for being a confessional prodigy, it is also a nice change.
For her world tour this summer, Amos plans on embarking on a dramatic production of gargantuan proportions. Each night she will appear as one of the posse on stage for the beginning of the show, and midway through, "Tori" will take over. For those who know how Amos' raw, invigorating live show unfolds, this is a considerable shock. She is doing a multi-media extravaganza. It's a stroke of genius that she will play as different characters—Tori has fans that follow her tours the world over, this will ensure they get a unique experience each time. She is really giving her fans what they want, more than almost any other artist working.
It's a bold maneuver on Tori's part to ask her oft-discussed fan base to take this leap of faith with her, but will be rewarding for those with a little bit of vision—not to mention it will ensure that shrewd marketer Amos will move a lot units and fill seats at her upcoming shows. She hasn't had this good of a gimmick in years.
Tori has a habit of getting lost in this sort of conceptual record, but she capably delivers every style of music her fans have come to expect from her on Posse. It is a little bit of everything she does well: rock, ballads, etc. Also, since her departure from Atlantic to Epic, she has displayed a keen sense for crafting some of the most pleasant pop of her career. "Big Wheel" may be a bit honky-tonky for the casual Amos fanatic, but at its heart, it is just a fun romp. As Amos sneers "baby I don't need your cash/ mama's got it all in hand", you can practically mop the sarcasm up off the floor. Amos gets the reputation of being supremely self-serious and reverent; people forget she is a funny woman with a razor-sharp sense of humor.
After her last major releases (full length studio albums Scarlet's Walk and The Beekeeper; and the archival Tales of a Librarian, and A Piano), Amos faced criticism from fans and music critics for being a little too prolific. Scarlet and Beekeeper were both 18-plus tracks, buried in towering high-concepts (which revolved around things like "The Corn Mother" and her infinite mystique). Each record boasted an Amos who was changed by motherhood into a softer, more crowd-pleasing artist (who wrote syrupy ditties like the garbage of "Ribbons Undone" from Beekeeper, which disturbingly featured a lyric about her "little pony growing up fast"). Her once edgy sound was replaced with something tamer, and many fans were worried that their beloved goddess of angst was gone forever.
In Posse's closer, "Dragon", Amos is at her absolute finest: vocals up front and center, fairytale piano straight out of a Brothers Grimm piece, and a creepy-crawly sensibility that mixes with a pristine, almost cutesy tone. It's the kind of delicate balance that has been sorely lacking in Amos' recent output, and anyone who thought she couldn't pull this sort of epic off any longer should be properly impressed. It is a track that stands among her all-time best compositional work.
There are moments of jaw-dropping virtuosity on American Doll Posse, the kind of moments Tori's fans live for: unexpected vocal layering and harmonies, piano lines driven home at break-neck speed, and an overall sound that is everything and the kitchen sink. Vocally, after her last two releases, there were whispers of Amos losing her edge—she wasn't hitting the impossible high notes of her Little Earthquakes days and this alarmed many listeners.
The worried Toriphiles should be able to rest easy now: Amos' vocal work on Posse is some of her most accomplished (she has rarely sounded as assured as she does on the mercurial "Beauty of Speed"—a track that melds the music with her voice seamlessly). In "Father's Son", Amos muses "so the desert blooms/ strawberry cactus/ can you blame nature/ if she's had enough of us", proving that lyrically (after the disastrous, saccharine missteps on Beekeeper), she is back in top form after the constraints of her previous two albums' gargantuan concepts bogged down her gift for using language as a sharp-edged weapon. Few songwriters can turn a phrase quite as compellingly (and literately) as the singer.
Tori hasn't been as relaxed as she is on Posse since her brilliant, underrated 1999 release, To Venus and Back, an album that came and went without much fanfare. On Venus, Amos let the music, in all of its refreshingly technology-soaked glory, take center stage. Her playfulness showed through with her use of effects on her voice and her decision to distort her piano—which makes the comparison of tracks like the turbulent "Code Red" to Venus tracks the most logical connection to her previous cannon. Many of the Posse tracks could be easily placed on this more experimental album. It seems as though Tori's regimented control of her sound has suffered from a lack of looseness. With the concepts taking over the show, the music felt a little bit contrived on recent outings, with Posse, Amos seems to be exhaling deeply.
Amos has employed a cadre of off-the-beaten-path sound in her palette that will disarm the casual listener. At first, it is jarring to go from the jagged transition between the noise of "Fat Slut" into the pomp of "Girl Disappearing", but Amos is a master of evoking an array of emotions and atmospheres. It is obvious after listening to the new album that the veteran and her crackerjack team of musicians (Matt Chamberlain on percussion and Jon Evans on bass) are at their improvisational, loose best. From the sinister, moody crawl of "Smokey Joe" to the shimmering electro-strut of the effervescent "Bouncing off Clouds", the band is in tip-top shape, ready for whatever challenge their task mistress, Amos, throws their way.
For someone who essentially lives in a hermetically-sealed musical world (she resides in the bucolic northern English countryside with her husband and daughter, and works generally with the same collaborators on each project), Amos does a nice job of making a relevant record. She is a middle-aged woman, taking risks and still selling her product. What would benefit her even more, if she's feeling adventurous next time, is the hiring of an outside producer and editor to curtail her sometimes excessive thematic scope. If Posse is any indication, she is game for anything.
If American Doll Posse would have been edited into a shorter, more concise record (which would have been easy to do—starting with cutting four or five of the "short songs"), it could have been Amos' best. Instead, it fits nicely alongside her best work, but is a little bit too bogged down with its sometimes preachy, non-descript politics and too many of the usual suspects in the mix (such as the alt-country-influenced ballad "Roosterspur Bridge and the trite "Devil's and Gods"—tracks that deflate the overall structure of the rest of the well-built record). But kudos must be given to the lady for having the guts to start doing high concept performance art at this stage of her already illustrious career.
Tori has made a career of being "Tori": the personal, confrontational spitfire with a talent as big as her voice. "Tori" is still all over this record, she is just well-hidden by her concepts and her characters; her writing and composition talents are at the forefront. People seem to forget that underneath all of her weaves and slick surfaces, Amos is an exemplary writer and storyteller at heart. She is obviously game to tackle anything and her talent for executing big, unfamiliar sounds is staggering. It's refreshing to see work from a woman over 40 that is unafraid to challenge governmental policy and corporate marauding, as well as her own unconventional place in pop culture.
Amos produces a wholly relevant musical document that exists as both a nice companion piece to a world on the brink of cataclysmic disaster, but also as a bright-eyed, cautiously optimistic re-affirming of human nature. American Doll Posse also functions separately, as a testament to Amos' skill and longevity as a performer. There is a myriad of theoretical hoo-ha and mystical bullshit that comes along with every Amos release, but if you can disregard the ephemera and get past "the pantheon of goddesses" (from which Amos appropriates her feminine archetypes), there is an album of excellent pop, astute industry commentary, and flirty intentions begging to be discovered. Tori accomplishes this all while sporting Christian Louboutin heels, couture dresses, and full make-up, to boot. What more can you ask for as a fan? Besides the return of Boys For Pele's harpsichord or a duet with Radiohead's Thom Yorke, that is?
---
Army of Two
New albums from Tori Amos and Björk.
by Sasha Frere-Jones
May 7, 2007
By the time Tori Amos was thirty, she had been through several drafts of a career. A child piano prodigy, she was the youngest person ever to attend the Peabody Conservatory of Music, in Baltimore. (She was five when she auditioned.) In her early twenties, she was the lone woman in a rock band called Y Kant Tori Read. (The group released a single album, which sold fewer than ten thousand copies.) In 1992, after some wrangling with Atlantic Records, whose executives were apparently dubious about the commercial potential of what they called "this girl-at-her-piano thing," she released a solo album, "Little Earthquakes," on which she sang about Christianity, body image, and, in the remarkable song "Me and a Gun," rape, often with the force and sometimes even the sound of her idol, Robert Plant. "Little Earthquakes" was the first in a series of albums by Amos which helped prove that a girl at her piano could make songs that were as artistically complex and, sometimes, just as popular as those of a shaggy boy with an electric guitar.
A year later, the Icelandic musician Björk released her first solo album, "Debut." Like Amos, Björk had recently left a rock band full of men, the Sugarcubes, a successful independent group and the fourth she had been in since she started playing piano and singing publicly, at the age of eleven. Björk's main instrument is her voice, a glassy, elastic alto with the sonic power and range of an electric guitar. She found inspiration in dance music and the electronic instruments used to make it, increasingly avoiding anything resembling a traditional rhythm section. Amos's music draws on the baroque songwriting and melodramatic vocals of Kate Bush and the long, expert melodies of Joni Mitchell, and she favors a lineup of bass, guitar, and drums behind her piano.
Amos and Björk are now in their early forties, mothers and artists in a market that has shown little interest in promoting women much over the age of consent, especially avowed feminists who invoke goddesses and (in Björk's case) will wear a swan in place of a ball gown. Both are releasing new albums this month. Stylistically very different, Amos's "American Doll Posse" and Björk's "Volta" are two examples of how a female pop musician can maintain her career without compromising her politics.
In a recent interview with the online magazine Pitchfork, Björk said of "Volta," "It's sort of maybe trying to put out some good vibes for the little princesses out there." She added, "All they want to do is be pretty and find their prince, and I'm, like, what happened to feminism?" Her lyrics are usually less direct. One form her feminism takes is simply ignoring conventional wisdom. Many artists would hesitate to appear on an album cover, as Björk does on "Volta," in what seems to be an enormous dodo-bird suit covered with a melted sangria candle, especially an attractive woman who could win over all sorts of people by wearing, say, a tighter dodo suit.
The album begins with a rebuke to the White House: "Earth Intruders," an odd and boisterous song inspired by a visit that Björk made to Indonesia after the 2004 tsunami. There she envisioned a wave of people taking political action, an image that she described to Pitchfork: "Maybe a tsunami of people would just come and hit the White House and scrape it off the ground and do some justice."
The music for the song was provided by the ubiquitous producer Timbaland, who in 1999 sampled her majestic track "Jóga" for a remix of Missy Elliott's song "Hit 'Em wit da Hee." On "Earth Intruders," Timbaland bisects a clomping dance with nasty synthesizer howls. Björk begins singing in her full-chest voice—one of pop's most reliably ecstatic stimuli for the past fifteen years. "Turmoil . . . carnage," she says, dragging out each word. She speaks the chorus at low volume, nestling the words in the blend of live drum sounds and digital cries: "Here come the earth intruders; there'll be no resistance. We are the cannoneers, necessary voodoo." "Earth Intruders" alludes only briefly to her Indonesian epiphany: "And the beast with many heads and arms rolling, steamroller." Björk has no obligation to make her politics explicit, but it's a shame that she keeps her anger cloaked. (Of her intentions for "Volta," she has said, "It's 2007. It's not some hippie shit—'go-back-to-your-roots.' It's all march forward.") Had she included one or two specific references—Washington, cowboys, Black Hawk helicopters—"Earth Intruders" could have grown fangs without becoming preachy.
Björk's collaborators on "Volta" are eclectic to a fault: the Congolese group Konono No. 1, which plays amplified kalimbas; the frantic drummer Brian Chippendale, of the American duo Lightning Bolt; a ten-piece all-female Icelandic brass band; and a Chinese pipa player, among others. This musical solicitude is a testament to Björk's fearless curiosity, but her restlessness can be wearying. When disparate teams of musicians attempt to realize one musician's ideas, every song becomes yet another stone turned over rather than one put in place. On "Volta," melodic motifs rarely repeat the way they do in most songs, and many of Björk's vocal performances feel like improvisations.
In "Vertebrae by Vertebrae," the brass band plays a low chord twice, then moves up a whole step to play another chord four times, and then stops. Though you're hearing a live band, the music has the feel of a loop, like a Steve Reich ostinato slowed way down. Twice, the music dissolves into parallel sheets of sound; Björk's voice is reproduced electronically, creating a harmonic foam, while the horns play discrete lines. There's a looped beat in the murk somewhere, though no one seems to be playing to it, and it's hard to identify a motif, despite a surfeit of melodic material. "Vertebrae" is one of many songs in which Björk—who grew up with the simple populism of punk, and who launched her solo career by exploiting the equally basic populism of dance beats—makes music that has little to do with pop. Several horn passages in "Vertebrae" and "Wanderlust" have a hypnagogic grace, and "Pneumonia," one of the few tracks not cluttered with sound, presents a gorgeous chamber-music-style arrangement of horns and voice for what could be Björk's mission statement: "To shut yourself off would be the hugest crime of all."
Shutting off is not often a problem for Amos. "American Doll Posse" is aggressive and, occasionally, overstated; Amos fans who have complained that they haven't heard from "the real Tori" in a while will be relieved. In the past three years, Amos has released only one complete album, "The Beekeeper" (2005), which buried her natural vigor under music that occasionally incorporated gospel and R. & B. but in the end was lax and weirdly docile. "American Doll Posse" returns to her music of the nineties: fired-up songs centered on the piano, her robust singing, a rhythm section, and loud guitar playing more indebted to the seventies than to the ohs.
The album title refers to characters that Amos created for the record: Pip, Tori, Clyde, Santa, and Isabel. These women appear on the cover, five Amoses digitally manipulated to occupy a single space. The one called Tori has long, straight red hair and bangs, wears a floor-length dark skirt, and holds a chicken. (The concept owes much to the work of the artist Cindy Sherman.) If you do some research, you can figure out which character sings which track, but this is unnecessary. Amos has always played a variety of characters in her songs; it wouldn't be a stretch to say that her work is concerned primarily with how different women experience the world. (Amos once said in a television interview that she was elected homecoming queen simply because she had made an effort to talk to all the girls in her high school.)
Amos's album, like Björk's, begins with a rebuke to the Bush Administration: "Yo George," a dirge for piano and voice, in which Amos (as Pip) sings about the "madness of King George" and asks, tremulously, "Where have we gone wrong, America?" She must know that the public-service announcement is a dicey gambit; the song is only eighty-five seconds long. On "Big Wheel," a rhythmically assured rock song that features a distorted slide guitar, Amos sings as a woman who is claiming her independence: "Baby, I don't need your cash, mama got it all in hand now." And in "Secret Spell" she sings to a younger woman, maybe herself: "Jumps at three, tears at thirteen, just turn you around for eighteen wheels in a high heel, just turn you around, sold a dream at twenty-three." The guitars on "Secret Spell" are reminiscent of songs by R.E.M., a group whose plangent, chiming guitar style has not been reprised in the twenty-first century as often as, say, U2's has.
Amos's anger is appealing, especially when she's parsing gender stereotypes. She takes on the acronym MILF—a term that "Tori" decides she likes—and a more ageless insult, "fat slut," which becomes a character in a song of the same name. Björk's concerns on "Volta" tend to be more global, but "Declare Independence," a brief punk rant, contains a lyric that would work just as well in a song by Amos: "Declare independence. Don't let them do that to you. Make your own flag. Raise your flag!" ♦
---
Music Review: The many sides of Amos
By KIMBERLY REYES, For The Associated Press
Tori Amos, "American Doll Posse" (Epic): Always somewhat schizophrenic in sound and lyrics, Tori Amos decided to write the tracks for her ninth album from the perspective of five distinct characters: Pip, Isabel, Clyde, Santa, and Tori.
Produced by Amos, this album evokes the heavier and more energetic music of her early '90s heyday, while introducing a more ornate (hello electric guitars!) musical landscape to tackle both inner and international conflicts.
Although the different personalities are hard to differentiate at first, the 43-year-old provocateur uses the persona of Isobel to voice her disgust with the incumbent administration in tracks like "Dark Side of the Sun" and "Yo George" in which she declares, "And I sneeze 'cause I have now an allergy to your policies it seems." Things tend to get interesting when Amos focuses her disdain on something — patriarchal values or George Bush.
Still, melodic and powerful tracks like "Roosterspur Bridge" and "Girl Disappearing" prove that the album would have been better served if left in the hands of doe-eyed Clyde, whom Amos gave the most inspired tracks. Instead we get quantity over quality. The time put into crafting the four other guises should have been used to focus on the type of coy bewilderment that Amos does best.
CHECK THIS OUT: "Bouncing Off Clouds" is bursting with the melody, melodrama and a whimsical innocence that we haven't seen from Amos (by way of Clyde) in years.
---
Tori Amos
American Doll Posse
(Epic 2.5 stars)
Imagine if you will the Pussycat Dolls singing lyrics of personal political empowerment. That is, if they couldn't dance, the words all had a tortured, biting weariness to them, and they all sounded like Tori Amos.
Hmm.
Before taking a hammer to your thumb, know that Amos' loosely knit 23-track concept CD – five distinct characters based on Greek mythology, all with their own wigs and blogs – sounds better than it looks. Or than Pip, Clyde, Isabel, Santa, and Tori look.
Despite having to sing through Clyde's Persephone-inspired gloom, "Bouncing off Clouds" (like the sharper Tori-sung "Big Wheel") simply gallops through its wifty woe and drifty melody. Thank jittery drummer Matt Chamberlain's tight, inventive rhythms for bringing out the best in Amos' hammered piano and air-honey vocals. When the music stays stark and spare (the arch "Code Red," for example) all's well. Same with ballads, like the Isabel-sung "Yo George," which sings wistfully of Lincoln before dissing the current president. (Is Tori the Republican or is that Isabel?) Yet when Amos cheesily rocks out on Pip tracks like "Teenage Hustling," she sounds like little more than a fourth-rate Karen O; or worse, Alanis Morrisette.
The moral of American Doll Posse? Blame Pip.
- A.D. Amorosi
---
TORI AMOS
American Doll Posse
(Epic)
Tori Amos recently announced that her new album was "an opportunity to reclaim the segmented pieces of the female psyche" — and, she added, to "reunite them." Is that all? To this end, Ms. Amos has created five personae — Isabel, Clyde, Pip, Santa and, confusingly, Tori — to sing the 23 songs on "American Doll Posse." Before you ask: yes, each persona does maintain a personal Web site.
By this point in her extraordinary career, 15 years removed from her blockbuster solo debut, "Little Earthquakes," Ms. Amos has weeded out most of the casual listeners from her fan base; the tourists are gone and the Torists remain. But "American Doll Posse" isn't quite the fans-only project it might first seem to be. Although the album's conceit might seem heavy-handed, Ms. Amos treats the whole thing like a game: this is her most entertaining album in years, precisely because she keeps switching among characters and styles.
Not that everything works. The first song, "Yo George," is a shopworn political lament. (She murmurs, "Where have we gone wrong America?/Mr. Lincoln we can't seem/to find you anywhere.") But it's over in little more than a minute (one upside to cramming 23 tracks onto a CD), replaced by a jagged and mischievous Southern-rock song, "Big Wheel." This album is full of pleasant surprises: the R.E.M. flourish that opens "Secret Spell"; the sleek bass line in "Bouncing Off Clouds"; the 90-second orchestral daydream that is "Programmable Soda." A message to lapsed Tori Amos fans: come back. You won't be bored.
KELEFA SANNEH