« Previous
|
Next »
Setlist
Thanks to Elizabeth for the setlist!
Act I – Clyde
Bouncing off Clouds
Little Earthquakes
Juarez
Rattlesnakes
Beauty of Speed
Interlude
Act II – Tori
Big Wheel
Space Dog (w/ the Andromeda interlude)
Pancake
Cornflake Girl
Lust
Take to the Sky
T & Bö
China
Me and a Gun
Here in my Head
Band Returns
Digital Ghost
Black Dove
Code Red
First Encore
Precious Things
Secret Spell
Second Encore
Video
Big Wheel (posted by zappnet2007)

Beauty of Speed (posted by zappnet2007)

China (posted by zappnet2007)

Photos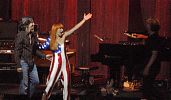 Reviews
Reviews are no longer being accepted for this show.
Submitting Photos & Video
If you want to submit photos or videos, mail them directly to Violet. (If you're submitting both, it's fine to include them in the same message.)
Image files should be no larger than 640px in height and under 100kb. If you cannot resize your own images, we can do it for you, but be aware it will take us longer to get them up.
Please include the name you want us to use as your photo credit. Pick something unique, as you would for a forum login. Each credit name must be different in our [photo] database. If you see a photo (or video) posted here that has been credited to the wrong person, let us know right away.
If you have a video you'd like to share, or you've come across a cool video you think we should add, email us the URL. If you've taken video but aren't able to post it online yourself for whatever reason, you can send us the file and we'll make it available through our YouTube account.