« Previous
|
Next »
Setlist
Tonight's setlist is from Tracey who texted it in to the fine folks at FeelTheWord. "Sister Janet" was on the printed setlist, but was not performed.
Act I – Santa (white cocktail dress and red stilettos)
Body and Soul
Sugar
Dragon
Secret Spell
You Can Bring Your Dog
Interlude
Act II – Tori (red jumpsuit)
Big Wheel
Black Dove
Parasol
Cornflake Girl
Honey
Caught A Lite Sneeze
T & Bö
Long Improv (Lullaby for a real Indian princess) – very subdued
Yes Anastasia
Winter
Band Returns
Northern Lad
God
Code Red
First Encore
Precious Things
Tear In Your Hand
Second Encore
Photo Sets
Photos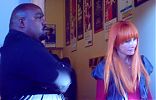 Reviews
Reviews are no longer being accepted for this show.
Submitting Photos & Video
If you want to submit photos or videos, mail them directly to Violet. (If you're submitting both, it's fine to include them in the same message.)
Image files should be no larger than 640px in height and under 100kb. If you cannot resize your own images, we can do it for you, but be aware it will take us longer to get them up.
Please include the name you want us to use as your photo credit. Pick something unique, as you would for a forum login. Each credit name must be different in our [photo] database. If you see a photo (or video) posted here that has been credited to the wrong person, let us know right away.
If you have a video you'd like to share, or you've come across a cool video you think we should add, email us the URL. If you've taken video but aren't able to post it online yourself for whatever reason, you can send us the file and we'll make it available through our YouTube account.