News: Tori/PJ/Björk Photo In "Q Idols" Exhibit
Posted by Violet on
Sunday, September 17, 2006
|
Cherries
The October, 2006, issue of Q magazine includes an additional mag titled 20 years of classic music photography, Q Idols.
Included is John Stoddart's 1994 cover photo of PJ Harvey, Björk, and Tori (seen below). Looking back, Stoddart had this to say about the experience: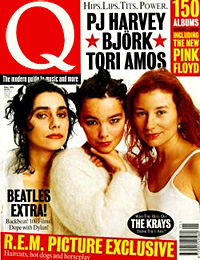 "Bjork, PJ Harvey and Tori Amos represented a new wave of female rock. They hadn't met each other before this shoot. I thought it was going to be a real number having these three egos in one studio, but they couldn't have been nicer to each other. There was no prima donna behaviour, and they all swapped numbers afterwards. My only regret is that Bjork had the worst hairdo of her career at the time. Look at it – it's horrible."
This and other photos from the Q Idols collection will be on exhibit in the Getty Images Gallery at 46 Eastcastle Street in London from September 25th-October 6th (or, if that's a bit too far to travel, take a virtual tour of the exhibit from the comfort of your own home). Just think though … if you go in person, you can take A Piano in your iPod as background music!
(Many thanks to Saar for being vigilant, as ever.)