News: Rantz Spins Indie-ly On The Rack And Other CBT Promo
Posted by woj on
Thursday, July 24, 2008
|
Cherries
Rantz returned to the Indie Spinner Rack podcast this week to talk about Comic Book Tattoo. You may recall that he's been interviewed there before but this visit is devoted entirely to the collection, its genesis and Rantz's long-time friendship with Tori. Check it out!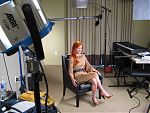 And since this is as good a place as any, be advised that Tori and Rantz also did several radio and television interviews on Tuesday in the run-up ti Comic-Con (he has two photos from that on his Flickr photostream as well). We're not sure what all those media outlets were but if we get wind of any, we'll let you know.
Also, there will be a book release party for Comic Book Tattoo at Golden Apple Comics in Los Angeles (on Melrose) at 6:00 PM on Friday, August 1st. Rantz and many of the book's creators will be there for a meet and greet and signing. Tori will not be in attendance, but if you're interested in meeting the folks behind the book and have the opportunity to attend, it looks like it will be a good time. The party is a benefit for the Comic Book Legal Defense Fund so there is an admission fee but it's for a good cause and there will be drawings for several prizes including one of the limited edition CBTs, one of the Boys For Pele tour programs that Rantz designed, a Boys For Pele-themed original story by Neil Gaiman that has never been reprinted anywhere as well as some other great items.