News: Tori Signs With Universal Republic Records For Upcoming 2009 Album
Posted by Violet on
Tuesday, December 02, 2008
|
Releases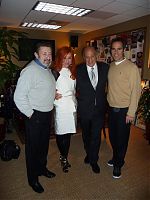 Hot off the presses, a press release for you. Yay! While it doesn't contain a ton of new information, it does confirm that Tori has signed with a new record company for the upcoming album and has vague details about the project.
The photograph, courtesy of Universal Republic, shows Mel Lewinter, Chairman & CEO of Universal Motown Republic Group, Tori, Doug Morris (Chairman & CEO of Universal Music Group), and Monte Lipman (President & CEO of Universal Republic Records).
---
December 2, 2008
TORI AMOS PARTNERS UP WITH UNIVERSAL REPUBLIC RECORDS
NEW ALBUM ACCOMPANIED BY GROUNDBREAKING NEW VISUAL
COMPONENT DUE IN SPRING/SUMMER OF '09
(New York, NY) Innovative; influential; poetic; bombastic – indefinable
multiple Grammy nominee, Tori Amos, has teamed up with Universal Republic
Records, it was announced today by Monte Lipman, Co-President and COO of
Universal Republic Records. "We're honored to welcome Tori Amos into the
Universal Republic family," stated Mr. Lipman. "It was Doug Morris
(Chairman & CEO, Universal Music) who originally signed Ms. Amos to her
first recording deal, and we're excited that they will be able to continue
their association via Universal Republic. Tori has always exemplified the
truest spirit of the independent artist, blazing a path for nearly two
decades with a legacy of incomparable conceptual breakthroughs; as
singer/songwriter; as social commentator; and as one of our most thought
provoking visual performers. We're thrilled to be in a position to help
facilitate the next chapter of her amazing career."
In a unique venture in keeping with Ms. Amos' and Universal Republic's
unconventional approach to the artist/record company relationship, the two
powerhouses have joined forces to jointly navigate Ms. Amos next release, as
well as correlate other ventures in tandem with Ms. Amos' prolific creative
output. Her upcoming Universal Republic debut (her tenth studio album), is
currently scheduled for a late spring/early summer 2009 unveiling. Every
track on the album will be accompanied by a corresponding 'visualette,'
featuring footage that has been captured over the past year. Shot in HD and
Super 8, the visualettes will incorporate a documentary style. "Tori is
very much looking forward to a fulfilling creative relationship with Monte
Lipman and the great team he has assembled at Universal Republic," stated
John Witherspoon, Amos' manager, "The intricate development of this unique
Audio Visual component to Tori's musical presentation, which she has been
crafting through her own Galactic Media company, is indicative of the
outlier creative and strategic opportunities both Tori and Universal
Republic hope to build upon in this extraordinary relationship."
Ms. Amos' most recent album, American Doll Posse, which has been hailed by
Rolling Stone magazine as 'her best album in years,' was released in 2007 to
a chorus of rave reviews. The captivating album, like many of her previous
efforts, was tethered to a strong conceptual theme, with Ms. Amos inhabiting
multiple archetypal female personae, a testament to her willingness to
continue to challenge the thematic landscape and emotional currency of the
female singer/songwriter.
With more than 12 million albums sold, and commanding a significant and
uniquely loyal audience from the rock, pop, alternative, and under-the-radar
regions of the music world, Ms. Amos has influenced a new generation of
artists in a myriad of platforms. Most recently, she was the catalyst for a
one-of-a-kind anthology chronicling her career, the 500 page Graphic Novel,
Comic Book Tattoo, featuring stunning visual interpretations of her songs by
more than 80 artists, (including an introduction by friend and creative
influence artist Neil Gaiman, creator of the Sandman series).
Regarded as one of the most compelling and emotionally fearless live artists
in music today, her American Doll Posse World Tour, launched in the summer
of 2007, saw her soar with her first full-fledged rock band in nearly a
decade. Media platforms such as the BBC lauded both her live show and album
as 'returning Tori Amos back to the forefront of a genre she defined…still
pushing her own boundaries.'
Her genre-shattering breakthrough in the early 1990s, including1991's 'Me
And A Gun' EP, and 1992's masterwork, Little Earthquakes, single-handedly
revived the piano-and-singer motif in rock music. Little Earthquakes went
on to sell more than 3 million albums worldwide, with subsequent Grammy
nominated albums such as Under The Pink (1994), 1996's Boys For Pele, 2001's
Strange Little Girls, and 2002's Scarlet's Walk continuing to explore
broader themes.
Known for her extraordinary repertoire, groundbreaking videos and astounding
visual transformations, an assortment of compilations have been
intermittently released the past few years, including, A Piano: The
Collection, a Rhino Records 5 Box set of classics, rarities, and
never-before-released gems adroitly re-capping her career, a DVD compilation
of signature Amos videos, Fade To Red in 2006, and 2008's Live At Montreaux,
a DVD release featuring the singer/songwriter's earliest performances at the
festival in 1991/1992. In conjunction with her American Doll Posse Tour,
Ms. Amos oversaw the release of the web-compatible Legs And Boots series, a
complete collection of shows available for downloading, culled from her
North American live trek.
Nominated for multiple awards, including ten Grammy's, Ms. Amos has been
working on a musical for London's British National Theatre called The Light
Princess tentatively scheduled to debut in 2010.