News: NOT New Album Artwork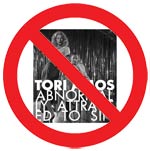 Late last night, we started getting reports that possible new album artwork was floating around in the cyberether. Undoubtedly this is where Perez Hilton also got the pic (featured today with the caption "A visual preview of Tori Amos' new album").
Don't get too excited. We have confirmation from the Tori camp that this photo is absolutely NOT related to Tori or the new album in any way and was not done by anyone associated with Tori.
So Perez, you may want to change that caption to "A cute and clever fan interpretation of Tori Amos' new album."