News: Now Streaming: Abnormally Attracted to Sin!
Posted by woj on
Saturday, May 16, 2009
|
Releases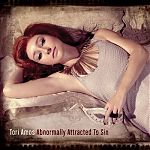 As announced by our friends at Everything Tori, Abnormally Attracted to Sin can be streamed in its entirety at Tori's Myspace page and The Guardian (presumably to make up for Anna Pickard.) Note that The Guardian's stream includes the UK bonus track "Oscar's Theme" as well.
Both streams will be up through Tuesday when the album is released. Enjoy!
Thanks to doiron and the many others who let us know about this!
Update: Germans can also stream the whole record from Universal Music.