News: Flurries in October: A Midwinter Graces Sneak Peak
Posted by woj on
Sunday, October 11, 2009
|
Releases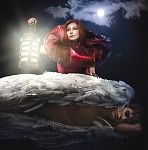 Along with promotional interviews for albums comes reviews copies of said albums and Midwinter Graces promos have started to flow and should start producing reviews of the album soon. And by "soon," we mean today, though perhaps not in the usual sense of reviews in the press.
Robert Schrader had the chance to listen to a review copy of the album over the phone and has posted his impression and thoughts about it in his latest Examiner column.
He also included the photograph to the right. We're not quite sure where it came from but it magically appeared in our mailbox over the weekend as well and this is an opportune time to put it out there….